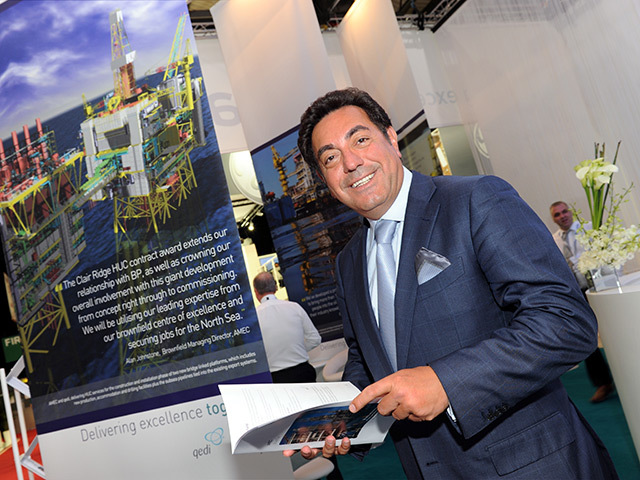 Oil services giant Amec could be double the size within just two years – potentially creating hundreds of new jobs in Scotland.
Chief executive Samir Brikho told the Press and Journal yesterday that the firm was lining up a "number of acquisitions" to expand the firm.
The company has until September 16 to make a fresh offer for oil and gas company Kentz, after a £690million approach was rejected last month.
But last night Mr Brikho said Kentz was not their only option – and that Amec's global workforce of more than 29,000 in 40 countries could hit 60,000 by 2015.
"We are recruiting 7,000 people worldwide this year, including 4,000 in the UK. We are growing at an enormously fast pace," he said.
"We are intending to grow the operation in Aberdeen. If we continue with the journey we are on in the years to come, we need to increase our office capabilities enormously to cope with the new demand.
"This is an all-time high for us. We are trying to make the company more global.
"I would not be surprised if Amec is double the size in one or two years from now with acquisitions and organic growth. We are on a fantastic run."
Mr Brikho said that growth would continue in Scotland regardless of which way the country votes in the independence referendum next year.
However, he said the Scottish Government would have a big task matching the tax incentives being offered by Westminster.
"From a business point of view, it doesn't make much difference, as long as the Scottish Government can provide the same incentives that the UK Government can. It depends on their policies," he said.
"Oil and gas will be critical for an independent Scotland, so it will be even more critical that it is handled in the right way."
One of the concessions being offered by George Osborne currently is for decommissioning, which Mr Brikho sees as a major opportunity for Amec.
He said: "You have an installation that has been there for 40 or 50 years. You need to make sure that the wells are plugged in the correct way, because once they have started to split up the units, there will be a lot of spills.
"We need to think about how, with good engineering, we are going to minimise any type of spill. It's like a car engine – even when it is not running, there will be rest oil. It's like anything, it is easier to take apart a new thing than to take apart an old thing."
Mr Brikho would not be drawn on whether the firm will make a final bid for Kentz in the coming weeks.
He added: "We have, as you know, submitted offers to Kentz which we think represents good value to both their shareholders, and to Amec.
"We are very clear that we are not going to make a hostile bid. We are waiting for Kentz to come back and say what they want.
"We need to think about what is best for Amec. There are other options for use – we have been working on a number of options, of which Kentz is one."