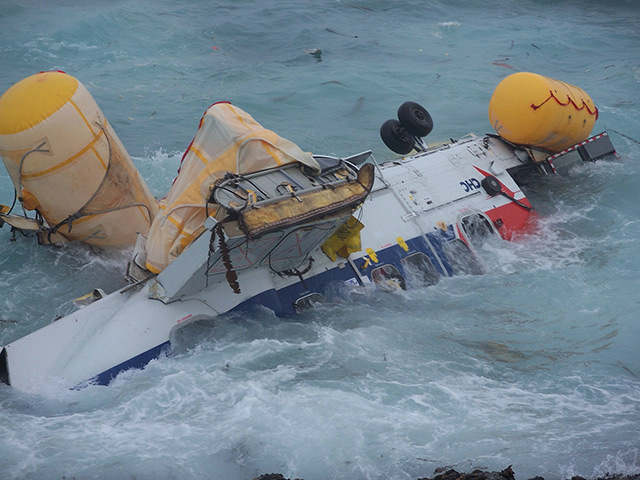 Investigators into a fatal helicopter crash off an island airport have called for a review of rescue operations in its surrounding waters.
Three men and a woman died when a Super Puma plunged into the sea off Shetland on August 23. There were 14 survivors.
A number of lifeboats and helicopters were sent to the scene but one rescue boat supposed to leave from a slipway to the west of the airport was delayed due to tidal conditions and instead had to leave from the south of the airport, taking almost an hour to reach the crash scene.
A report by the Air Accidents Investigation Branch (AAIB) said: "It is recommended that the Civil Aviation Authority reviews the risks associated with the current water rescue provision for the area of sea to the west of Sumburgh Airport and take appropriate action."
The helicopter was travelling from the Borgsten Dolphin support vessel when it came down en route to Sumburgh Airport with 16 passengers and two crew on board.
The crash claimed the lives of Duncan Munro, 46, from Bishop Auckland, County Durham; George Allison, 57, from Winchester, Hampshire; Sarah Darnley, 45, from Elgin, Moray; and Gary McCrossan, 59, from Inverness.
In its latest report the AAIB says it found no evidence of technical failure in the helicopter and that the engines were giving out power when the aircraft hit the water. The flight approach of the Super Puma is said to have been normal until three miles from the airport.
All passengers in the helicopter were wearing survival suits but the crew were not.
The report also recommends that the operator of Sumburgh Airport provides a water rescue system suitable for all tidal conditions.
The launch slipway to the west of the airport is "shorter and narrower than optimum", meaning it can only be used in 11% of tidal conditions.
Coastguard rescuers were quickly on the scene of the crash but the fast rescue craft (FRC) forced to leave from the south slipway of the airport took 58 minutes to reach the crash site and three crew members on the craft suffered injuries in the difficult sea conditions, the AAIB report says.
"This accident has highlighted that, in the majority of tidal conditions, the FRC may not be able to respond to aircraft accidents in the sea on the western side of Sumburgh Airport within the available survival time," the report states.
"It is recommended that the operator of Sumburgh Airport, Highlands & Islands Airports Limited, provides a water rescue capability, suitable for all tidal conditions, for the area of sea to the west of Sumburgh, appropriate to the hazard and risk, for times when the weather conditions and sea state are conducive to such rescue operations."
For more details about the report, see Saturday's Press and Journal.
Recommended for you

One dead, six injured after oil tanker explodes off Hong Kong