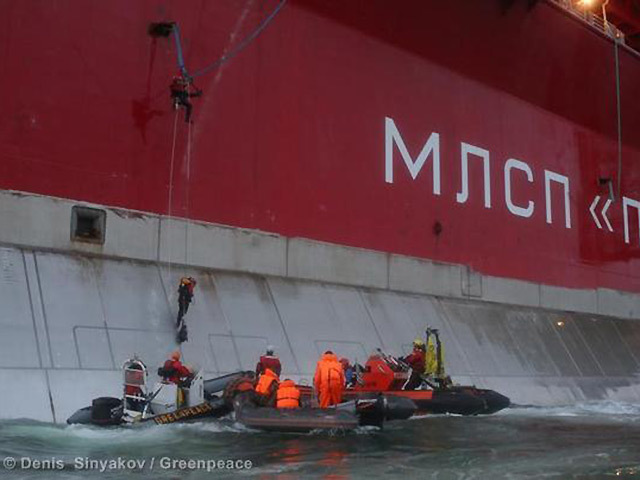 Greenpeace will "for sure" continue to stage oil rig protests despite having 30 activists taken prisoner by the Russian authorities, one of the Britons freed from detention has said.
Frank Hewetson said, that despite his ordeal, the organisation's method of scaling oil rigs in the Arctic would happen again.
But he said he could not for certain say they would return to Russia
The activist said he had 23 years of experience and was "pretty good" at carrying out direct forms of action.
He said: "You have to take a technical approach if you are going to get on an oil rig. It has to be done safely, you have to have the right equipment, you have to have the training.
"We certainly know what we're doing and we're quite safe about it too."
Mr Hewetson added: "I think it will happen again for sure. I'm just not going to comment about whether it will happen in Russia, I just don't have the mental head space to make that sort of decision at the moment.
"But I personally want to go back to part of the Arctic."
Mr Hewetson, one of the "Arctic 30" detained by the Russians over a protest against oil drilling two months ago, said he was "still a bit shaken" after his ordeal and that their problems were not yet over.
Asked if he or his colleagues were free to leave Russia, he said: "No, we are definitely not free to leave Russia.
"I do have my passport, but part of the anomaly of the whole situation is we were seized – the ship and us illegally – we were brought into Russia without a visa. None of us can actually leave because we don't have a visa.
"So at the moment the trial is still on the cards. I think the investigation period ends in three months, so I could still be here in three months and the trial could still go ahead in three months."
Meanwhile the last of the six Britons arrested by Russian authorities has been freed from detention.
Philip Ball from Oxford was granted bail last week but remained in detention before being released by a court in St Petersburg today.
Only one of the 30 people arrested by the Russian authorities two months ago – Australian Colin Russell – remains in detention.
Recommended for you

Home Office data shows spike in energy visa applications