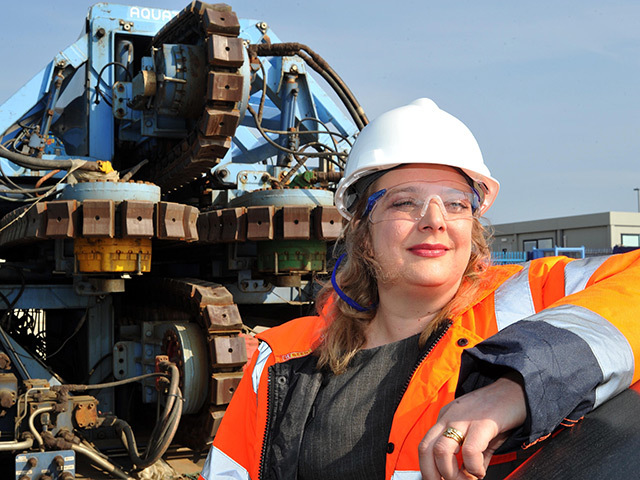 Aquatic was established in Aberdeen in 1974 by a Texan, Pat Tesson, who saw prospects opening up just as the dawn of the North Sea oil industry was breaking.
The company, which has a manufacturing yard at Peterhead and offices at Bridge of Don, is celebrating its 40 years of longevity.
It has commissioned a special sailing from Aberdeen harbour on the Gulden Leeuw for its staff and special guests to mark the occasion this week.
Ms Bamford set sail as a key member of the company's senior team as recently as November 2012.
"What a change there has been in that time," says the bubbly northern Englishwoman, who moved to Aberdeenshire from Bolton 10 years ago.
"We restructured at the beginning of last year to provide a better focus on commercial so we could deliver a better service to clients. A lot of change – and still more to come."
The biggest changes have been in personnel.
The company is now led by a team of four, led by president Chris Brooks who is based in Singapore.
Ms Bamford oversees the firm's sales, marketing, contracts and supply chain, while Colin Barry is VP finance and David Tibbetts is the firm's head of technology.
As with most ambitious subsea firms based in the north-east, a big part of the job is travel. She was in Brazil earlier this month, and is also regularly in Singapore and Houston, where the company also has operations.
Aquatic has been growing steadily since it was acquired by Acteon, an acquisitive group made up of 17 companies and headquartered in Norwich in 2006. Originally backed by Connecticut-based venture capital firm Lime Rock in 2003, the conglomerate, which was originally known as UWG Group, is now backed by US-based venture capital giant KKR and White Deer Energy.
"It is good to have the group support structure," says Mr Bamford of the company's ownership. "They are keen on allowing each business to operate independently but, at the same time, drawing on the strength and depth we've got to deliver projects to clients jointly.
"In the last seven years growth has been very big. We are targeting to continue on in that fashion."
In the decade she and her husband moved to Aberdeenshire, she worked as a consultant at Petrofac before joining Acquatic.
"Actually, I really love Aberdeenshire.
I had transferable skills from the industry I was in – I was in construction and telecoms – I built mobile phone infrastructure as a project manager. When we looked to make the lifestyle move up here, I got more specialised towards the contract and commercial side of things."
Despite working in a male-dominated industry, Ms Bamford has felt welcome – if only because she got toughened up early working in construction in the north of England.
"You do get the odd individual person, but I don't let it affect me. I just do my job to the best of my abilities," she says.
"It shouldn't matter what race, colour, creed, gender, whatever; it is 'can the person do the job?'.
"The biggest compliment I got paid was when somebody said to me 'I don't think of you as a woman – you are the person who does the commercial stuff'.
"For me that was so positive. They didn't care. It was all about whether you could do your job or not.
"I've been quite fortunate, I've not really come up against too much. Possibly my background in the construction industry has hardened me a little bit."
So as the company is now setting its sights on its next 40 years of operation, where will Ms Bamford be by then?
She says with a laugh: "I know that they are increasing retirement age, but hopefully I won't be here in 40 years."
Jenny Bamford: Q&A

Who helped you get where you are today?  I've been quite lucky in that at stages of my career I have had various people help me and mentor me. When I first started out, one extremely principled chartered surveyor taught me that business is business, it is not personal or emotional. But you still have ethics morals and principles.
What do you still hope to achieve in business? I really enjoy working with Aquatic. I hope to grow this business and make it even more successful.
What are you reading, listening or glued to on TV?  I'm a bit of a sucker for Masterchef. But I live out in the gorgeous shire; at this time of year, that's it, I don't read or watch telly when there's nice weather. I'm out.
If you were a character in a TV series or movie, who would you be?  I'd like to be like Miss Marple. Its part of my job in way – finding out the truth and the crux of the matter, then making informed decisions.
What do you drive and dream of driving?  They laughed at me when I said I'd like an Audi R8. It is almost realistically achievable. They laughed because even my dreams have to be sort of realistically achievable. OK, so maybe I'd have Concourse-condition E-type Jag. But you can't get them now.
What would your partner say about you? I asked him this, it's not printable (laughs). He's proud of what I've achieved.
Which charity do you support and why? We are sponsoring the new Aquatics Centre at the Aberdeen Sports Village. It is about to open (on May 5) to host the waterpolo event as part of the Commonwealth Games.
Recommended for you

Gallery: Memorial service held in Aberdeen to mark anniversary of Piper Alpha