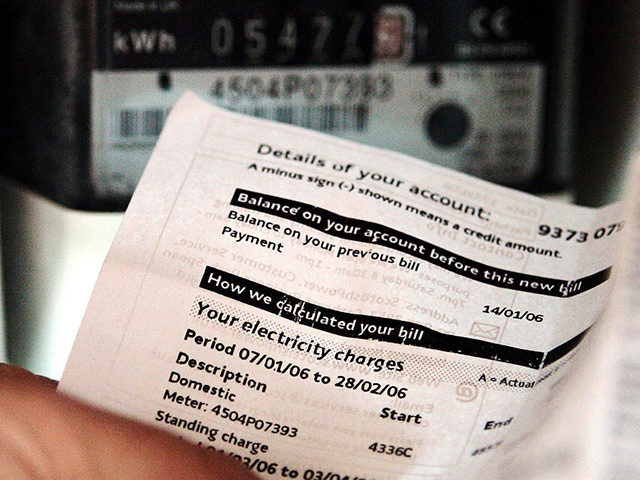 Household energy costs rose over the past year, despite falling wholesale prices of gas and coal, official figures show.
Consumer electricity prices were up 4.4% in April to June 2014, and gas prices were up 3.5% in real terms compared the same period the previous year, the statistics from the Department of Energy and Climate Change revealed.
But the price paid by major UK energy firms for coal and gas fell in the same period, with the price of coal for power stations falling 12% in real terms and the price of gas down 21%.
Coal and gas produce nearly three fifths of the UK's electricity, the latest figures show, with coal accounting for 28% of power generation, lower than in 2013, and gas-fired power stations generating 30% in the second quarter of this year.
All of the "Big Six" announced price increases which took effect in late 2013 or early 2014, with four of the major suppliers announcing smaller decreases after the Government brought in changes to energy efficiency measures paid for on bills.
Consumer organisation Which? executive director, Richard Lloyd, said: "Energy prices consistently rank as the number one financial concern for consumers and with figures like these from the Government it's no surprise that so many people don't think they're getting a fair deal.
"Big reforms are needed to restore confidence in the industry and to guarantee fairer energy prices for consumers.
"The Competition and Markets Authority should now investigate how the independent regulator could establish a price people can trust that will spur suppliers to compete and reassure worried consumers that they're not being ripped off.
"Meanwhile, energy companies should use simple pricing to increase confidence in the industry and boost competition by encouraging switching."
But industry body Energy UK said in a statement: "End consumer prices may not always reflect changes in wholesale market prices as companies buy energy, weeks, months and years in advance as well as on the day ahead market.
"This is to protect customers from short-term fluctuations in price. As a result, changes in customer prices reflect long-term trends, not short-term ones."
A Department of Energy and Climate Change spokesman said: "The Government is putting power into the hands of energy consumers by making it easier to shop around, switch and get the best deal.
"We're reforming the energy market to break up the stranglehold of the Big Six, encouraging more competition and ensuring energy companies provide simpler tariffs.
"Energy companies need to be completely clear with their customers about where their money is going – and any customers who aren't happy with the answer should look for a better deal elsewhere."
The statistics show that switching rates by consumers fell 2% between the second quarter in 2014 and the same period in 2013, to their lowest level since records began in 2003, but still show more than 200,000 households switching each month.
The data also reveals more than a fifth (22%) of power came from nuclear and almost 17% was from renewables, although the overall amount of power coming from renewables was down slightly on the previous year, the figures showed.
But solar power was up by more than two thirds (67%) as more solar panels were installed, making up 9% of all the electricity generated from renewables.
Power from bioenergy was also up, by almost 9%, largely due to Drax power station in Yorkshire converting a second unit from coal to biomass. Low wind speeds meant wind generation fell by a fifth (19%) compared with the same period in 2013.