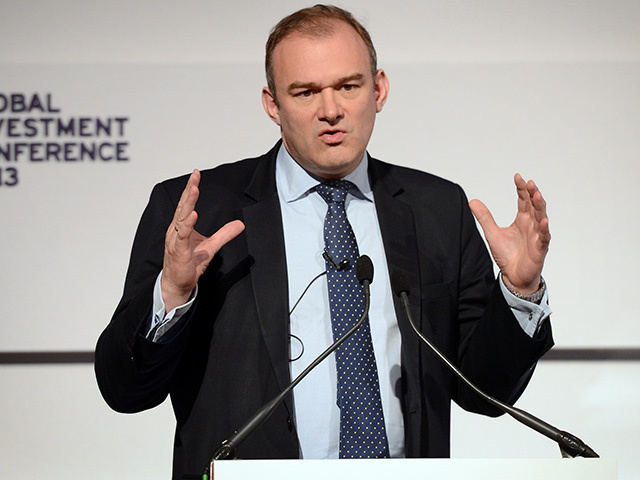 Electricity generators are to receive nearly £1 billion – at an average cost of £11 per household – to ensure enough power to meet peak demand in 2018/19.
Energy Secretary Ed Davey said the Government's first ever capacity market auction guaranteed energy supply at the lowest cost for consumers.
Electricity providers were asked to bid into the capacity auction, promising if they win a contract that they will be available to provide power when needed.
Through the auction, the Government said it had procured 49.26GW (gigawatt) of capacity at a clearing price of £19.40 per kilowatt. The cost of £960 million at 2012 prices works out at around £11 for the average household, although nothing will be paid by consumers before 2018/19.
National Grid was responsible for running the auction, which started on Tuesday and was followed by four rounds of bids each day.
The Government said fierce competition between participants had driven down costs below expected levels.
Mr Davey said: "This is fantastic news for bill-payers and businesses.
"We are guaranteeing security at the lowest cost for consumers. We've done this by ensuring that we get the best out of our existing power stations and unlocking new investment in flexible plant."
SSE secured agreements to provide a total of 4,409MW (megawatts) of electricity generation capacity from October 2018 to September 2019. However, agreement was not secured on 2,796MW, which included capacity at Abernedd, Ferrybridge, Peterhead, and one unit at Fiddler's Ferry.
Its wholesale managing director Martin Pibworth said the auction was an important step towards ensuring the lights stay on in the years ahead.
He added: "The capacity market, which has been designed to keeps the lights on at the lowest cost to the customer, should ensure that generators are fairly remunerated if they discharge their obligations and provide the capacity that's needed to ensure the system is able to meet the peaks in customers' requirement for electricity."
SSE said it was pleased that the majority of its plant has been successful in the auction but for those that were unsuccessful, it does not affect existing operations.
He added: "The capacity market is just one of multiple options available to existing plant. We will continue to analyse market conditions and opportunities for all our plant going forward."
The Department of Energy and Climate Change (DECC) will update its estimates for the impact on bills between 2016 and 2030 in the new year.
It said its best estimate for the upfront costs of the capacity market auctions between 2016 and 2030 remains an average annual gross figure of £14 for a typical household, although in some years the cost will fluctuate.
DECC added: "These figures overstate the costs borne by consumers as it does not take into account the wholesale electricity price reduction that will be brought about by the capacity market.
"This reduction is caused by avoiding very high price spikes that would have occurred had the capacity market not been there."
Recommended for you

UK energy crisis worsens as middleman's exit reverberates