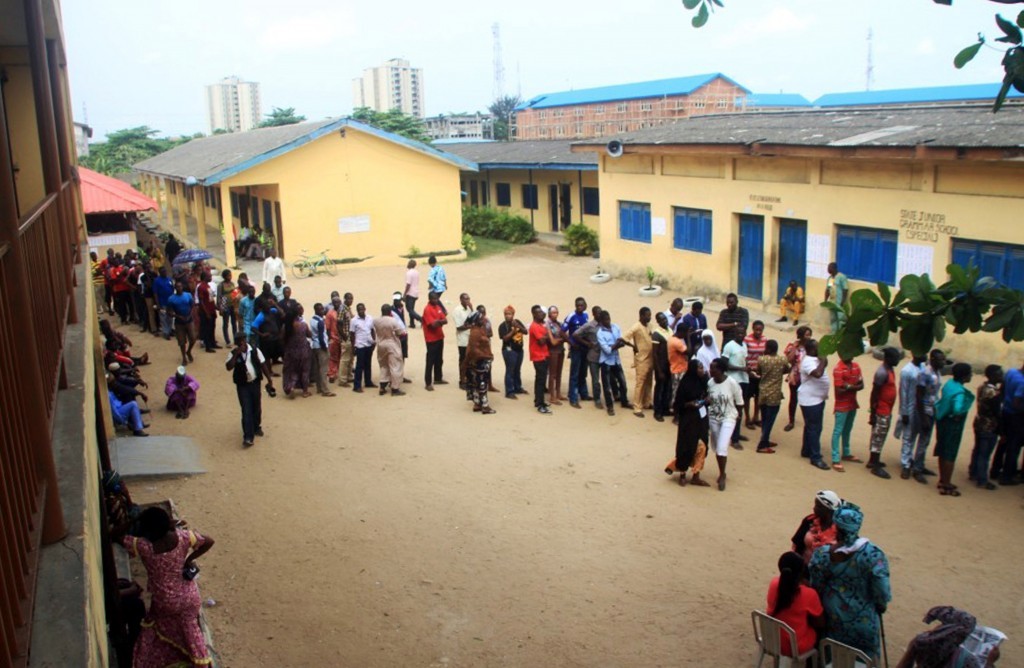 In a cliffhanger of a Nigerian election, early returns from half the states showed President Goodluck Jonathan and former military dictator Muhammadu Buhari almost even.
The US and Britain warned of "disturbing indications" that the tally could be subject to political interference.
Counting stopped just before midnight with Mr Jonathan winning nine states and the tiny Federal Capital Territory to Mr Buhari's nine states.
But Mr Buhari won many more votes – 8.5 million to Mr Jonathan's 6.48.
Another 18 states – including Lagos which has the biggest number of voters of any state – still have to send results to the counting centre in Abuja, electoral commissioner Attahiru Jega announced.
He said the count resumes at 10am local time today (9am GMT).
It is the first time in Nigeria's history that a challenger has a real chance of defeating a sitting president. This is only the eighth election since independence from Britain in 1960.
Mr Buhari swept the northern states of Kano and Kaduna, as expected, but delivered unexpectedly crushing defeats to Mr Jonathan.
In Kano, the state with the second-largest number of voters, Mr Buhari won 1.9 million votes to Jonathan's 216,000. In Kaduna, Buhari won 1.1 million votes to Jonathan's 484,000.
Protests erupted yesterday in two south-western states won by Mr Buhari's party.
In one of them, Osun, Channels TV showed video of the electoral official who raced through the announcement and then dashed out of the hall followed by other scrambling officials and media with security personnel rushing to protect them from the anticipated fallout.
Authorities declared a curfew in southern Rivers State after unofficial results not yet announced by the electoral commission gave Jonathan 95% of votes there.
The count in Abuja was being carried out in the presence of party representatives, national and international observers and media. The counting began two hours late, with no explanation given for the delay.
The US and Britain issued a joint statement saying they would be "very concerned" by any attempts to undermine the independence of the electoral commission and distort the will of the Nigerian people.
"So far, we have seen no evidence of systemic manipulation of the process. But there are disturbing indications that the collation process – where the votes are finally counted – may be subject to deliberate political interference," said the statement, signed by US secretary of state John Kerry and British Foreign Secretary Philip Hammond.
Mr Jonathan's party called the suggestions "absolute balderdash" and demanded evidence.
Campaign spokesman Femi Fani-Kayode said they "completely reject the assertion or the notion that we are in any way interfering with INEC," the electoral commission.
"I will challenge John Kerry or any other foreign official to provide the evidence," he said.
Recommended for you

Labour challenges Tories to scrap VAT on energy bills for a year