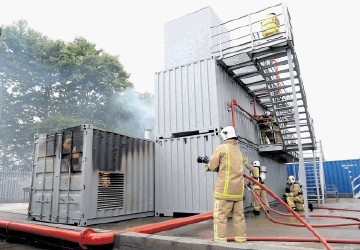 Maersk Training has been using a unique system in a bid to go completely paperless.
Staffs at the company's centre in Aberdeen have been working closely with the creator of the iPad, Apple, to develop a unique learning experience.
Operations manager Mike Prater-Cockayne said: "It's quite an extensive project we are going through at the moment.
"The initial idea was to put the course material on using pdf, but we wanted to go completely paperless, all our forms, check lists, safety checklists, risk assessments, absolutely everything.
"It includes participants' workbooks, test papers during class time."
The iPad has now become an intergral and interactive part of their learning process which have changed the way staff at the training centre learn.
A simple click can send all the iPads to the right section of the teaching, and if participants are unsure of anything they can use an innovative traffic light system.
This includes green for yes, amber for a little more clarification and red for not understanding.
Mike added: "It cuts out the embarrassment of putting up your hand and saying you don't understand or I'm struggling."
To find out more about this innovative system, click here.