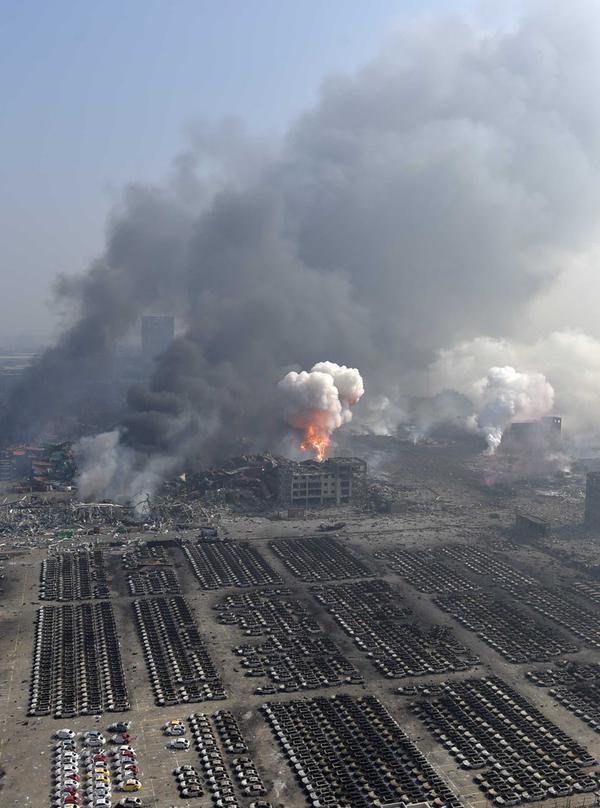 Rescuers have pulled out a firefighter trapped for 32 hours after responding to the massive explosions in Tianjin.
Meanwhile authorities moved forward gingerly in dealing with a fire still smouldering amid potentially dangerous chemicals.
The two explosions late on Wednesday at the Chinese port city – one of them the equivalent of 21 tons of TNT – killed at least 50 people and injured more than 700.
The blasts originated at shipping containers owned by a logistics company authorised to handle hazardous material and struck a mostly non-residential industrial area.
The death toll included 17 firefighters sent in after the first blast, and would have been much higher in a more populated area. Other firefighters also went missing while responding to the blasts, though authorities have not clarified how many.
One firefighter was pulled from the zone at about dawn and brought to a hospital, where he was being treated for face, chest and foot injuries, state broadcaster CCTV said.
"Forces from all sides are searching for the (remaining) missing firefighters," Tianjin Fire Department head Zhou Tian said.
Ruihai International Logistics handled chemicals ranging from flammable gases and liquids including compressed natural gas and ethyl acetate to toxic chemicals like sodium cyanide and toluene diisocyanate.
But the warehouse was a transit point and authorities do not have a clear picture of what was there at the time of the blasts. Records at the site were destroyed in the disaster, said Gao Huiyou, deputy director of occupational safety in Tianjin.
Mr Zhou said further firefighting efforts must go slow because of the potentially complex mix of chemicals at the site
"Many types of different materials with different characteristics are mixed together and could at any time result in a chemical reaction or explosion," he said.