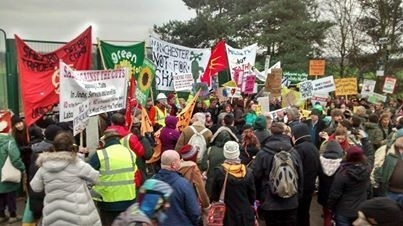 The village of Balcombe which was at the centre of protests against fracking has moved a step towards of becoming self-sufficient through renewable energy with the installation of solar panels at two schools.
More than 50 local investors have helped pay for the panels which are being put up at Balcombe Primary School and Turners Hill School following a pilot scheme which saw 69 panels installed on a cowshed at Grange Farm.
The village is also aiming to install a 5MW solar farm at nearby Chiddinglye Farm, West Hoathly, which would mean enough electricity produced to supply both Balcombe and West Hoathly.
Joe Nixon, spokesman for the Repower Balcombe project, said: "We are very happy to get solar panels up on Balcombe and Turners Hill primary schools. The local kids returning from summer holidays will learn how solar energy works and attend lessons powered by the sun. We are also excited about our plans for Chiddinglye Farm for a 5MW solar farm that will provide more clean energy to our community in sunny Sussex".
Millie Darling, project manager of the 10:10 solar schools campaign, said: "It's heartening to see Repower Balcombe installing solar at the school today, right in the heart of the village.
"Between cuts to renewables and the idea of fast-tracking fracking planning decisions, it's a tricky time for community renewables, but projects like Repower Balcombe help remind us why it's so worthwhile. Lots of communities want to do community energy projects like Repower Balcombe because of the numerous benefits these projects bring – the Government should be working to make it easier for these communities rather than harder."
Repower Balcombe has calculated that the primary school will use about 80% of the power generated saving it £530 on its annual bill while Turners Hill School would use about 50% of the power it produces, saving it £400 each year.
Ben Turney, headteacher at Turners Hill School, said: "This scheme will benefit the community, the school and the children's understanding of sustainability and stewardship."