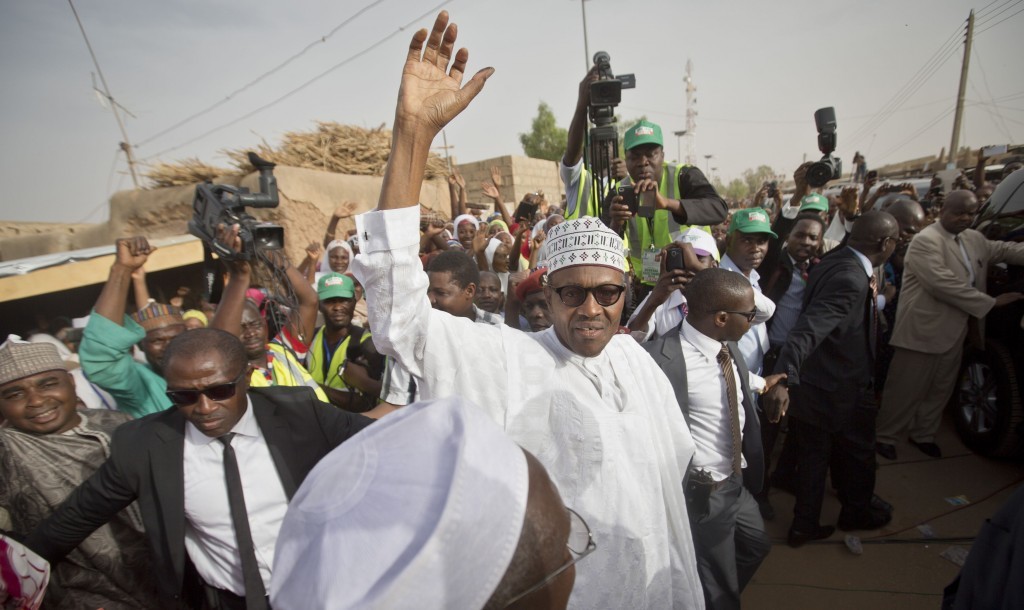 Revelations that top officials are suspected of pilfering the equivalent of almost the entire annual defense budget would cause shock waves in most countries. Not in Nigeria, where the public sees political power and graft as bedfellows.
The novelty this time is that President Muhammadu Buhari immediately ordered the arrest of a former national security adviser, after a government commission found that he and other officials allegedly misappropriated as much as $5.5 billion that was supposed to buy equipment to fight Islamist militant group Boko Haram.
"I don't think Nigerians would be very surprised about somebody stealing $5 billion at all," Boye Gbadebo, a Nigerian national who works as an Africa analyst at consultancy Ake Partners, said by phone from Johannesburg.
"He needs to target really prominent players. That will send the right message to everybody that the rules have definitely changed in Nigeria and that corruption will not be tolerated."
Nigeria's political system has been dogged by graft since independence from the U.K. in 1960. Officials have routinely looted state coffers in Africa's biggest oil producer, where more half the 180 million population live on less than $2 a day, and robbed the government of cash to upgrade roads, schools and power plants. Stamping out corruption will be a tall order for the 72-year-old former military ruler because it is so ingrained in the political culture.
"No government for more than four decades, whether military or civilian, cared to fix the power system or the railways," Gozie Agbakoba, who served as a federal lawmaker from 2003 to 2011, said by phone from Abuja, the capital. "Governance just became a system of plunder of national resources."
Buhari, who defeated Goodluck Jonathan in March elections that marked the first peaceful transfer of power since colonial rule ended, has pledged to make the fight against graft a top priority. He estimates about 250,000 barrels of Nigerian crude, or more than 10 percent of the country's daily output, are stolen each day.
"I'm not being selective," Buhari said in an interview with Lagos-based Channels TV last month. "Whoever is caught, the documents that incriminate him or her will be used to prosecute them for Nigerians to know they have abused trust."
Corruption has continued despite previous investigations in Nigeria, which was ranked 136th out of 174 countries in Transparency International's 2014 Corruption Perception Index, on par with Russia.
A government panel headed by Nuhu Ribadu, a former chairman of the nation's financial crimes agency, said in a 2012 report that Nigeria may have lost $37 billion from crude sales, royalties and signature bonuses for oil-exploration concessions in the previous decade. That exceeds the annual economic output of more than half the nations in Africa and surpasses the country's annual federal budget.
Lamido Sanusi was dismissed as central bank governor last year after he said the national oil company failed to pay about $20 billion of oil revenue to the national government in the 18 months through July 2013. Gbadebo estimates that $40 billion to $50 billion during the previous administration and that more money goes to waste each year than is spent on health and education combined.
"The figures involved are mind-boggling," John Ashbourne, Africa economist at Capital Economics, said by phone from London.
Buhari's initial efforts to combat graft have focused on the oil industry, the source of about two-thirds of government income and 90 percent of export revenue. He's taken personal responsibility for overseeing the industry and in June he fired the board and management of the Nigerian National Petroleum Corp, which manages Nigeria's oil assets. He also ordered a review of oil-swap contracts and barred 113 vessels from loading oil and gas.
The latest target of the crackdown is Jonathan's former national security adviser, Sambo Dasuki, 60. Government investigators say he awarded "phantom" contracts for the purchase of four jets, 12 helicopters and bombs while troops on the front line against Boko Haram, which has killed more than 13,000 people since 2009, complained of shortages of food, ammunition and equipment.
Dasuki denied the charges, said former President Jonathan approved of the purchases and maintained that the armed forces acknowledged delivery of the equipment. In a statement, Dasuki said "the conclusions of the panel were presumptive, baseless and lacked diligence. There were no fictitious contracts; contract sums were not diverted." He wanted the case to be heard in a public court, he said.
"That amount of money would do so much for any country and here you have soldiers wearing slippers to fight war," said Clement Nwankwo, executive director of the Abuja-based Policy and Legal Advocacy Centre.
Success for Buhari's anti-corruption drive will take time,and most of the plundered funds are unlikely to be recovered, according to Ashbourne at Capital Economics.
"It's hugely positive that Buhari's worried about corruption and he's talking about it," he said. "It is legitimately a very difficult thing to reform a system that has become so ingrained. It's probably better to look at what he does over the longer term. "
Recommended for you

Buhari backtracks on Seplat support for Exxon deal