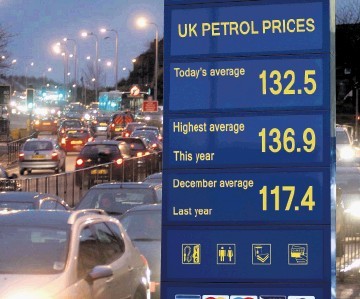 Petrol prices have been cut to less than £1 a litre at a number of supermarkets.
Tesco, the UK's largest fuel retailer with 500 forecourts, reduced unleaded to 99.9p per litre (ppl) and also took a penny off diesel.
Petrol at Morrisons tumbled even lower to 99.7ppl and diesel to 103.7ppl.
Asda kicked off the Christmas price war with a three-day promotion – ending on Sunday – which cut unleaded to 99.7ppl and diesel to 103.7ppl.
Tesco fuel director Peter Cattell said: "We want to do all we can to help our customers in the run-up to Christmas.
"We know that our customers really value low fuel prices and that having unleaded for 99.9p a litre will really give customers a boost over the festive period."
The cuts came after the price per barrel of Brent Crude oil dipped below 40 US dollars earlier this week.
Luke Bosdet, of motoring organisation the AA, said: "The question for non-supermarket forecourts is whether they ride out the storm or take it on with price cuts of their own.
"If the latter, the UK could see a serious dent in the average petrol price by the end of the weekend.
"The wholesale price of petrol over the past three days has recovered a penny and, while nothing is guaranteed with topsy-turvy commodity prices at the moment, drivers ought to enjoy this early Christmas gift while it lasts.
"Still, with a saving of £6.50 a tank compared to this time last year, that's the equivalent of free parking during the Christmas shopping period thanks to the supermarkets."
Recommended for you

Why UK petrol prices aren't plunging with oil price