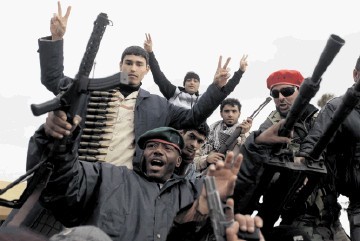 A leading middle east expert believes Islamic State is more focused on ideology rather than gaining additional oil supplies as it targets Libya's oil ports.
Fires have spread to seven oil tanks at Libya's ports of Ras Lanuf and Es Sider following attacks this week by Islamic State militants, a Petroleum Facilities Guards (PFG) spokesman said on Thursday. Ali al-Hassi said five storage tanks were burning at Es Sider and two at Ras Lanuf.
Professor of international politics Scott Lucas, of Birmingham University, said: "Islamic State is not trying to take over the supplies but degrade and disrupt them.
"I'm not sure why that is necessary when Libyan strikes and militia have already done this, but an ideological mission is an ideological mission."
Lucas said IS was likely to be more focused on hampering what it considered an "un-Islamic" state.
"Last year a local IS leader was asked why they were targeting oil fields. He said it was to stop cash flowing to what they considered an un-Islamic state.
"Libya is important for the Islamic community because it is in Africa and south of Europe. Libyan resources are a concern for the West due to their reliance on its oil and gas."
Lucas said that IS is seeking to control the region because it believes it could lead to economic breakdowns, especially in Italy and the rest of Europe.
At least 65 people were killed on Thursday when a truck bomb exploded at a police training centre in the town of Zliten east of Tripoli, local officials and hospital sources said.
Both Es Sider and Ras Lanuf have been closed since December 2014. They lie between the city of Sirte, which is controlled by Islamic State, and the eastern city of Benghazi.
An oil official based in eastern Libya estimated that the tanks hold up to 460,000 barrels each.
Libya is split between political factions and armed groups competing for power and for the country's oil wealth, five years after the revolt that toppled Libyan leader Muammar Gaddafi.
The OPEC member state's oil output has plunged to less than one quarter of a 2011 high of 1.6 million barrels per day.
The Brussels-based International Crisis Group, in its December 2015 report, Fighting for Libya's Energy Wealth, stated: "If living conditions plunge and militia members' government salaries are not paid, the two governments competing for legitimacy will both lose support, and mutiny, mob rule and chaos will take over.
Recommended for you

An oil rebound in Libya rests on shaky political foundations