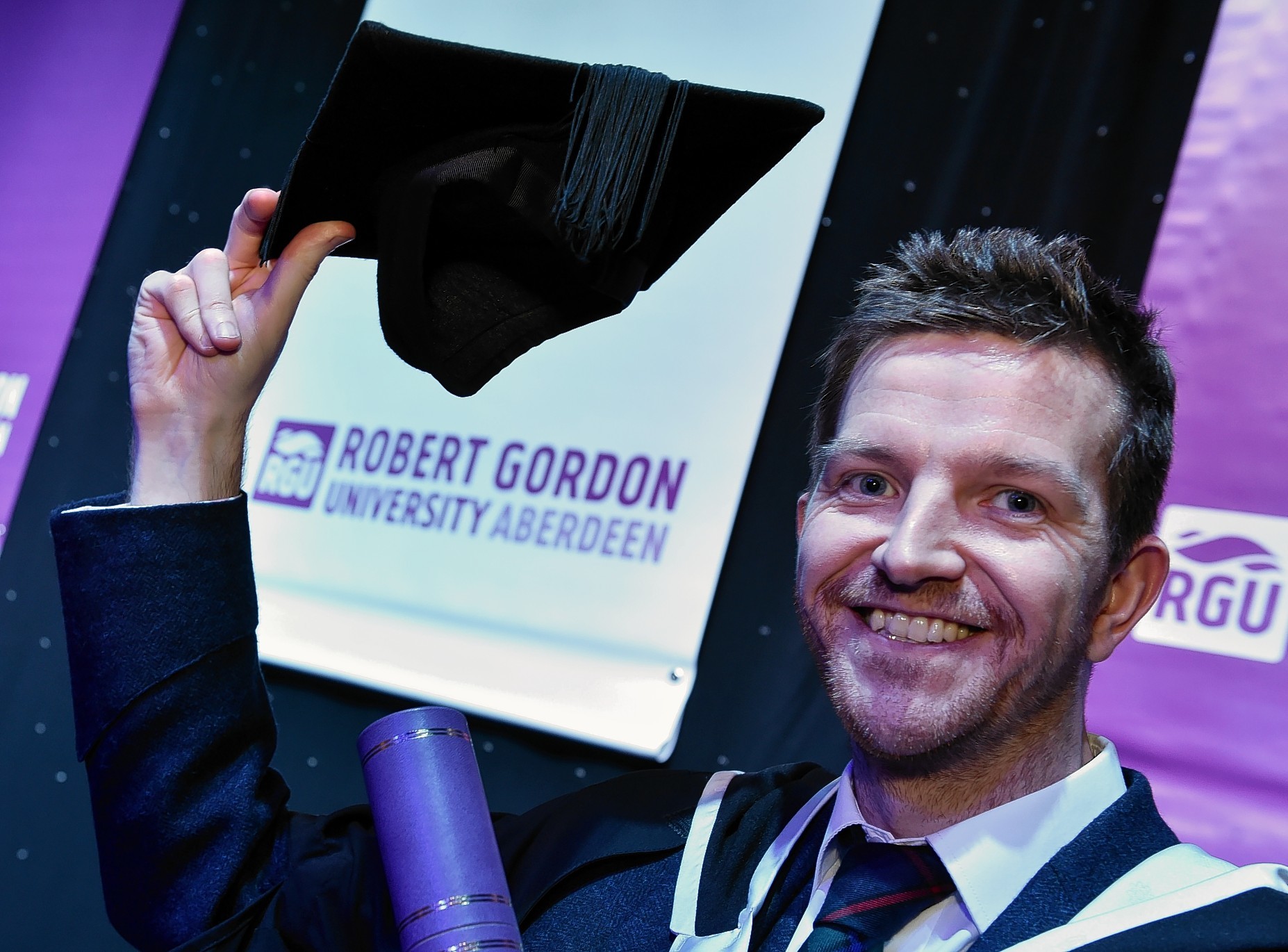 He was the Aberdeen golfer who crashed into the rough last year amid the oil and gas crisis.
But now, Chris Campbell has hit a hole in one by getting an impressive degree from Robert Gordon University and securing new employment.
The 33-year-old had been employed in a variety of roles in the energy sector for the last decade, but found himself out of a job because of the ongoing downturn in the industry.
However, after some serious soul searching, Mr Campbell spoke with RGU course leader David Lonie, who convinced him to try another path back to the fairway.
And yesterday, he picked up his MSc IT for the Oil and Gas industry with distinction at a special graduation ceremony for RGU students at the Beach Ballroom.
He has now been signed up for a new job in the energy sector which will take him all around the world.
Mr Campbell said: "Graduating today feels really good, the hard work has all paid off and now I can go and have a beer and relax.
"I lost my job as a senior engineer in June last year, but it was a really good opportunity for me to look to do a masters, and this course was the perfect fit.
"I was working part time, and started up my own company when I was studying.
"But now, I've secured full-time work as a principal consultant for one of the largest IT companies in the world, which provides consultancy services to one of the largest oil operators in the world.
"My degree has really helped me, not only to get this job, but to help me see a lot of my everyday work from a new perspective."
Mr Campbell is now preparing to travel to Houston for his job, and to India in January.
But he confirmed he will find the time in his new globe-trotting lifestyle to get back on to the golf course.
He added: "I am really looking forward to getting back into golf again next season.
"I hope we are starting to see a stabilisation in the oil and gas market, but I also hope this will encourage more innovative, collaborative, ambitious ideas to come to the fore to help drive the industry forward."
Recommended for you
X

BP Is Most-Exposed Among Oil Majors to OPEC-Russia Cuts