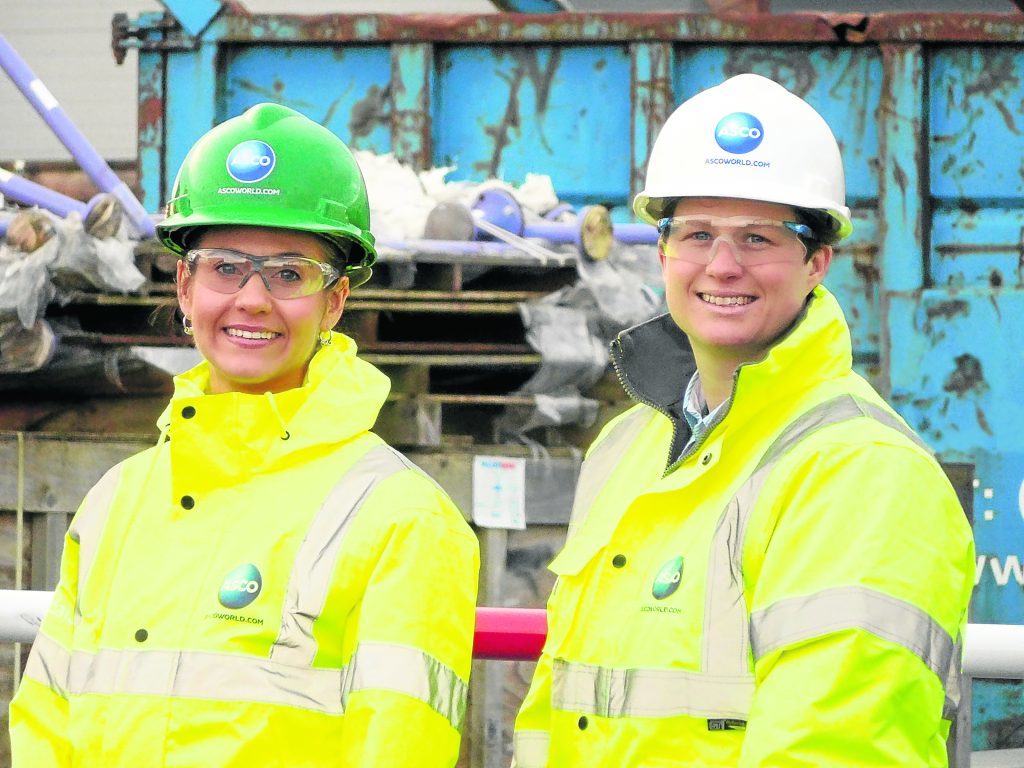 Emily Murphy, waste client services manager and Andrea Canale, technical account manager at ASCO speak to Energy Voice.
What were your interests growing up?
Emily: I was never particularly interested in arts subjects. My enthusiasm has been for science and geography for as long as I can remember. My mother is a very strong woman and has probably been the biggest influence on my life. My father was in the navy and, therefore, had to be away a lot and my mother invested a huge amount of time and energy in helping us children. She always worked hard and spent endless hours with us doing homework and helping with extra tutoring where we needed it. I always felt hugely supported in going out there and trying to achieve my goals which was very important.
Andrea: I didn't really enjoy school and I was a bit of a chatterbox, to be honest! When I left at the end of S5, the subjects I was best at were maths and science and I knew I wanted to go to university and study a science. Having that focus was a great start.
What was your introduction to STEM?
Emily: After doing my 11+, I went to Plymouth High School for Girls and it was exceptional in encouraging young women to be whatever they wanted to be. At that time, the school had recently received technology college status so there was a real push on getting women into things like IT, sciences and technology subjects and IT was compulsory even at a time when not everyone had access to a computer. That said, there were still few girls who took the subjects further – in my A Level physics class, there were four girls out of a year of 110! I am conscious that I was very much part of a journey that is still ongoing, but I was so lucky in what my school helped me to achieve. After school, I was accepted to study geology at Edinburgh University and was very much spurred on by the opportunities which awaited
me.
Andrea: I started at the Robert Gordon University when I was only 16, and I studied chemistry in a class of 20 males and just one other female which was a little bit daunting on both fronts at first. During my degree, I did an industrial placement for a year in a petrochemical company which was a great thing – and something I would recommend to anyone planning their career.
How did you get into the oil industry?
Emily: After graduating, I worked in a local authority role in East Lothian. Back then, waste management was very much a man's industry populated by lots of people who had come into it from an engineering background. With the industry growing and changing due to factors such as legislation and the push on recycling, more women are being attracted primarily because of the environmental side of it I think. In the 10 years I have been in the industry, the sector has developed a lot. The opportunity to work at ASCO was one I was and continue to be very excited by.
Andrea: Since graduating, all the jobs I have done have been in the energy industry. I have quite a varied CV having done lab work, operations roles and lots of environmental work too. Arriving at ASCO six months ago was my move from chemistry into waste management, and my background remains hugely important because of the technical knowledge which can be applied to areas such as hazardous waste management. The thing I love most about my job at ASCO is that it is so diverse and I'm not sitting at a desk every day. Currently, projects I am working on take me from my desk to the quayside to delivering training – sometimes all in the same day! I have never worked for a company which allows you to grow into the role and put your own stamp on it to the extent that I am experiencing at ASCO and I'm loving it. It's also a fantastic change for me to be working in a mostly female team – there are 10 of us in total, six of whom are women.
What was your exposure to the industry before carving out a career in it?
Emily: I've worked in waste management for 10 years, with four years in oil and gas waste management. I was attracted to the industry due to the nature of waste being produced (for example bulk waste and hazardous waste). It wasn't until I moved to Aberdeen five years ago that I realised these opportunities existed.
Andrea: During my placement year, my industry experience was as a quality control chemist and I think that year of putting your studies into practice is very important. Throughout my studies I worked to support myself but, living in Aberdeen, the oil industry was a natural place to look for work because I could see lots of opportunities all around me. My background lies in environmental projects but, as the waste industry has grown, I have found that my interests lie there and I was keen to move into that sphere thanks to the job I am now doing.
How would you describe yourself?
Emily: I would describe myself as active, outgoing and ambitious. Working for ASCO in my current role allows me to use these attributes as I regularly travel to offshore installations to help operators improve their waste and environmental performance. I've been to 10 different rigs this year alone!
Andrea: I'm well qualified and experienced but, when applying for my current role, I felt very much that my personality was taken into account as much as everything else. I think that's a really good approach because you feel valued as a whole person.
What has your experience as a woman in STEM been like? Any moments which stand out?
Emily: As a 22-year-old arriving in a local authority setting from university it was a little bit challenging. I was involved in rolling out the area's waste and recycling collections that people now have at their homes. Part of my role also saw me take responsibility for supervising some of the operational staff – of which every single one was male. I did have to prove myself, but I soon discovered that if you are willing to get in and get on with it, most people will accept you eventually. There is no doubt that going out in the winter to help the teams collect bins was something of a turning point!
Andrea: For me, you may have to prove yourself a little bit more but the outcome is usually down to personality and attitude. You also have to keep a sense of humour – just the other week my diary meant that I went from a meeting to a soaking wet quayside so I ended up working in a dress with all my PPE on top! I wasn't bothered and neither was anyone else as it had no bearing whatsoever on how I approached the job in hand – so long as you have the right attitude I think people accept you.
How would you grade the industry in getting women involved? What could it be better at?
Emily: I don't know of any women who seek preferential treatment, just equal treatment and ASCO is a great example of a place where gender is not important, ability is. As an industry, there is more acceptance now than there used to be, and as a young female coming into the industry I was conscious of the need to prove myself – but you have to make sure you don't take yourself too seriously at the same time.
Andrea: In my experience, it can be hard to progress if you are working somewhere that doesn't embrace change. ASCO is probably the exact opposite of that and, having dealt with the company from the outside, I have seen how it has moved with the times in so many ways and diversified to make sure it stays at the forefront of its chosen markets. For me, that makes it an interesting and dynamic place to be regardless of gender.
What's your hope for women's role in the future of energy?
Emily: As a mother myself now, I feel it is very important that society doesn't gender stereotype children from a young age – you're not going to empower young women in to science and technology careers if all the science toys are always in the boys' section of the toy shop! The world needs to look at a child's ability, interests and strengths before their gender, and make sure they have opportunities available to them if they are interested.
Andrea: I think times are definitely changing for the better, but there is no doubt that women are still experiencing barriers, either real or perceived. However, I also think that women need to be careful not to erect the barriers for themselves. If you go into a job expecting barriers, you will be in a more defensive mindset so you then risk creating barriers – again it's all down to having the right attitude.
Recommended for you
X

Decipher gearing up for Orlando development well