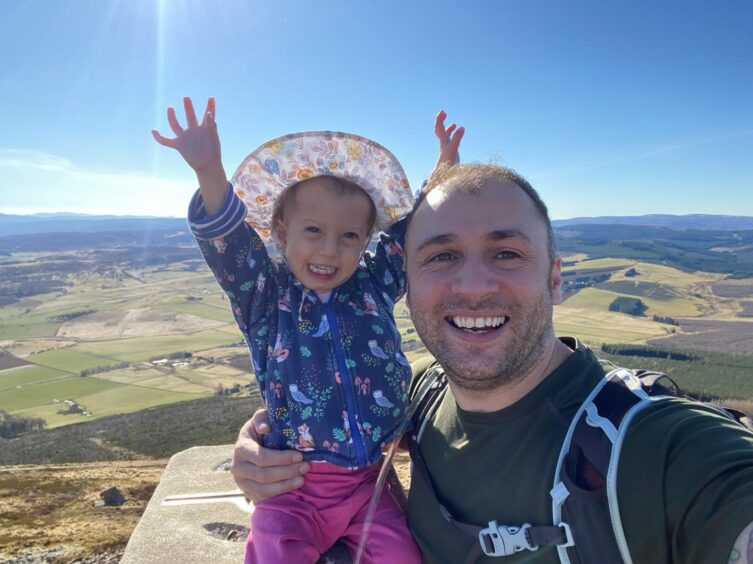 North Sea HSE advisor, Davie Hill, is to raise funds for the Archie Foundation after Aberdeen Royal Infirmary doctors saved his daughter's life.
The father of three is ready to set off from the Everest base camp and take on the goliath challenge of scaling four peaks before tackling the 20,210-foot-high 'Island Peak' glacier summit.
Having previously worked as a rope access technician, Davie said: "I'm okay with heights and I've worked with ropes, as in like rope access and rock climbing etcetera, so not too fussed about that aspect,
"It's the other stuff that is going to be brand new, learn on the day."
'The rope side of things helped me'
Climbing a glacier means Davie will have to use ice picks and other arctic climbing gear, this is the part of the climb the HSE advisor foresees as being a challenge.
"The rope side of things helped me from a knowledge perspective, so I'm quite comfortable with the equipment and how to use that, albeit I've not used ice axes," he explained.
Davie is currently on Technip's Deep Energy vessel, but this has not limited his ability to train for the expedition.
"The gym facility is phenomenal, it's as good as you'd get at Pure Gyms, my new best friend, believe it or not, is the step machine."
Davie received a training regime from the Altitude Center, "they are kind of like the sponsors of the company I'm doing the expedition with", so he is training in cardio, core and strength when he's not spending time on "the stepper."
Paula Cormack, chief executive at The Archie Foundation said: "This is an incredible, once-in-a-lifetime challenge that Davie is undertaking, and we will be with him every step of the way.
"The amount that Davie and Angela have raised, along with the help of their friends and family is phenomenal and will make such a difference to so many sick babies, children and their families.
"From all of us at Archie, we wish Davie a safe and successful trip."
Raising cash for 'life-saving equipment'
Originally the father of three set the goal of raising £10,000 for the Archie Foundation, a charity set up to support Aberdeen Children's Hospital, however, that target has been smashed before the North Sea worker took his first step.
This expedition is not the only way that the Hill family are raising money for charity.
Davie's wife Ange has been working on a raffle to raise funds for the Archie foundation.
He said: "Ange has done a lot of work for a raffle that we're actually doing, so at the moment we've got about £2000 worth of gifts.
"There are vouchers for treatments, VIP tickets at P&J Live, tubing sessions, Khashir scarves, bottles of whiskey, hotel and restaurant vouchers and champagne.
Davie added that there are still more prizes coming in and that when tickets are available, they can be bought over Facebook.
Davie said: "The idea is to raise as much money as possible in order to potentially purchase some new life-saving equipment for the Baird facility that's being built at the moment.
Davie and Ange's 'little toot'
Davie and his family were inspired to raise funds for the Archie Foundation after the extensive and high-quality care ARI's pre-delivery, delivery, surgeon, and neonatal teams provided his daughter.
Born five weeks early after mum Ange had to be induced and Georgia Angelica Morgan Hill spent 32 days in the neonatal unit, predominately the intensive care unit.
Davie said: "Georgia, my youngest daughter, was diagnosed at 28 weeks with duodenal atresia, which means essentially her stomach was detached from her bowel, so we noted that and started getting regular scans.
"We knew that it was a bit of a growth delay for Georgia and then it was subsequently planned that she would be coming early and it was too, too dangerous for her to have a natural birth."
Little Georgia needed corrective surgery when she was just one day new.
When Georgia was born, she weighed just three pounds and 14oz, dad described her as "a little toot."
'I just get on with it and get things done'
Davie and Ange stay in Afford and while Georgia's mother was in hospital the father of three would "juggle" working with looking after his daughters.
Describing this time, Davie said: "I would work, juggle the kids and make sure they get enough attention and then I would go out at night to support Ange after my work where I could."
Things were tough for the family at this time, both mentally and physically.
When asked about how he coped, Davie said: "I think the most challenging thing would be having to mentally support Ange when I didn't know what the long-term outcome would be because essentially, we didn't know where Georgia was going to survive."
However, Georgia celebrated her fourth birthday with mum and dad last Sunday, she is now 83cm tall and weighs just 20 pounds.
'Ain't no mountain high enough'
Davie wants to continue to raise funds for the Archie Foundation after he completes his assent of the Island Peak.
When pushed on what he has planned for the future he said: "The title of the fundraiser is 'ain't no Mountain High enough', but the reality is there are higher ones out there.
"So yeah, I can. I can leave you with that."
If you would like to support Davie in his effort to raise money for the Archie Foundation, click here.
Recommended for you

North Sea rallies to raise funds for family of 'well loved' offshore worker