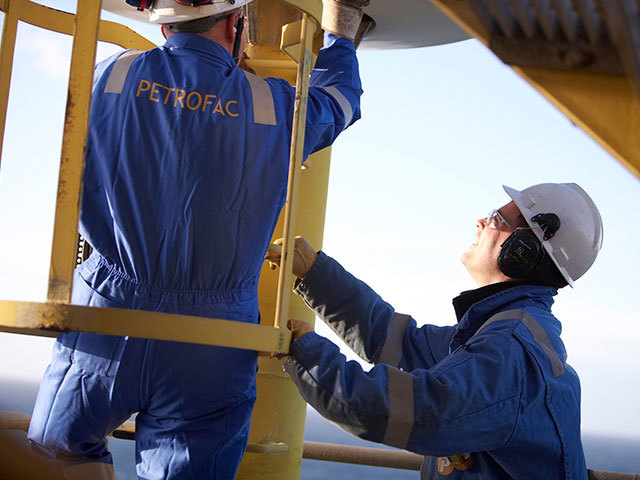 The first thing oilfield geophysicist Emmanuel Osakwe noticed when he arrived back at work before 8 a.m. last month after a short vacation was all the darkened offices.
By that time of morning, the West Houston building of his oilfield services company was usually bustling with workers.
A couple hours later, after a surprise call from Human Resources, Osakwe was adding to the emptiness: one of thousands of energy industry workers getting their pink slips as crude prices have plunged to less than $50 a barrel.
"For the oil and gas industry, it's scary," Osakwe said in an interview after he was laid off last month from a unit of Halliburton Co. (HAL), which he joined in September 2013.
"I was blind to the ups and downs associated with the industry."
It's hard to blame him.
The oil industry has been on a tear for most of the past decade, with just a brief timeout for the financial crisis.
As of November, oil and gas companies employed 543,000 people across the US, a number that's more than doubled from a decade ago, according to data kept by Rigzone, an employment company servicing the energy industry.
Stunned by the sudden plunge in the price of oil, energy companies have increasingly resorted to layoffs to cut costs since Christmas, shocking a new generation of workers, like Osakwe, unfamiliar with the industry's historic boom and bust cycles.
Workers who entered the holiday season confident they had secure employment in one of the country's safest havens now find themselves in shrinking workplaces with dimming prospects.
Sean Gross, 35, was over the moon when he secured a job in March last year at Schlumberger Ltd. (SLB), the world's largest oilfield service company.
He'd been laid off from a technology company and saw the oil business as his salvation.
"I was happy. My life was starting to take shape. Life was really, really, really, really good," he said.
Oil prices started drifting down after hitting a high of $107 a barrel on June 20, but were still at $91 at the end of September.
In the next few weeks the market buckled, falling to $80 by the end of October, to $66 by the end of November, and to $53 at the end of the year.
After hitting an intraday low of $44.20 on Janunary 13, oil traded higher today, rising to $49.62 at 9:15 a.m.
By December, Gross said talk was spreading through his Houston office about people losing their jobs "left and right."
Old-timers were suddenly retiring. Yet Gross still thought he'd be okay working in information technology far from the oilfield.
As a newcomer to the energy industry, he didn't realize how crashing oil prices would ripple through the company.
He'd made it through another unsettling day and was in the parking lot, buckling on his motorcycle helmet for the ride home, when he looked up to see his boss running after him.
"Hey Sean, I need to talk to you in my office."
"Oh God, here I go again," Gross recalled thinking as his boss delivered the news that he was getting laid off.
There's no firm number yet on how many oil industry workers are losing their jobs, or how many more cuts might be coming.
Halliburton said last month it was laying off 1,000 staff in the Eastern Hemisphere alone as it adapted to a shrinking business.
Suncor Energy Inc., a Canadian oil company, said this week it will cut 1,000 jobs in 2015, a day after Royal Dutch Shell Plc (RDSA) said it would cut 300 in the region.
Other companies have announced layoffs, but many are making the cuts without public fanfare.
The effects are being felt beyond the oil companies as cutbacks trickle down to suppliers and other companies that thrived along with $100 oil.
The biggest drilling states — Texas, North Dakota, Louisiana, Oklahoma, Colorado — are expected to feel the most pain.
The Dallas Federal Reserve bank estimates 140,000 jobs directly and indirectly tied to energy will be lost in Texas in 2015 because of low oil prices.
Halliburton said it will continue to make adjustments to its workforce "based on current business conditions," according to an e-mailed statement from Emily Mir, a spokeswoman.
"While these reductions are difficult, we believe they are necessary to work through this challenging market," she wrote.
Joao Felix, a spokesman for Schlumberger, declined to comment on the company's layoff plans.
The job-hunting website Indeed.com has filled up with thousands of newly posted resumes from oil industry workers over the past six weeks.
Among them is Scott Brewer, another industry transplant who had been working for big-box retailer Home Depot Inc. (HD) before jumping into the Texas oilfield four years ago with plans to bulk up his savings.
Brewer felt sure the boom times would churn along for at least another decade. "It was just consistently getting better," he said.
His confidence was boosted by watching all the money the oil companies threw around. "They'd spend $20,000 like you and I spend $10 at McDonald's," he said, recalling catered meals at the drilling site featuring catfish, shrimp and lobster. "It was insane."
The downturn hit everyone by surprise, said Brewer, who worked on wells mostly in South Texas for a small, private drilling technology company called Leam Drilling Systems LLC.
After sitting at home a month waiting to be called to his next job, Brewer got a phone call at the end of December telling him he was no longer needed.
Jean Chapin, director of human resources, declined to say how many jobs Leam has had to cut.
"We are constantly in the process of trying to right-size our company," Chapin said in a phone interview. "We do anticipate a continued downturn in domestic drilling activity."
Like many in the industry, the oil business runs in the family for Svetlana Mazitova, 39, compounding her anxiety.
A third-generation oil veteran, her Russian roots and two masters degrees in science and business helped her secure a job in June with a Houston-area company selling drilling equipment around the world.
Her husband, a native Texan, works for a company that sells the material drilling companies use to prop open the cracks in rock that allow oil and gas to flow.
Her son is planning to start college in August to study engineering.
Mazitova's company was hit first by US and European economic sanctions against Russia, related to the nation's conflict with Ukraine.
The sanctions eliminated an important market, and when oil prices fell, the company had to lay off workers, including Mazitova.
Now she's worried for her husband's job, too, and wondering how they'll put her son through school if both are out of work.
"It's terrifying," said Mazitova. "I'm upset. I don't know what to do for a future."
For 31-year-old Australian engineer Adam Beaton, the oil crash has dashed hopes of returning to work in the US, where he lost his non-energy job — and his work visa — during the 2009 recession.
Beaton has been working back at home in Australia helping develop huge offshore oil and natural gas projects, hoping to transfer to the US when his current project ended.
Instead, he was laid off, with no prospects for getting more work.
"When the oil price goes down, everything happens quickly," Beaton said.
As industry analysts and consultants increasingly predict that low oil prices could linger for years, laid off workers face a workplace where their chances of getting rehired by an energy
company are remote. Many don't plan to even try.
"I'm pretty much decided I'm not gonna do this oil thing again," Brewer said.
Osakwe is thinking of going back to school to broaden his physics training with an eye toward looking for "something that's hard to do without."
Scott Richardson, 47, of Longview, Texas, is still trying to get an energy job back. It's what he knows best after 10 years in the oilfield, spending 300 days a year on the road bouncing from drilling site to drilling site.
He drives a $120,000 Jaguar XFR-S, bought with the bounty of his well-paying job as a supervisor of an oilfield equipment operator.
That decade of prosperity made Richardson so complacent that he hadn't been paying attention to the price of oil in early December when he quit his job in frustration over equipment problems.
"I honestly didn't give it any thought," he said. "The oilfield's been good to me for 10 years." When he cooled off and asked for his job back, his boss told him the position had been eliminated.
Now he's pounding the pavement looking for anything he can get, resigned to making a third of his old salary just to sign on somewhere.
"That car payment still comes around," said Richardson, who now checks oil prices more than four times a day.
Recommended for you

First Minister 'disappointed' at Rosebank field approval