AT the start of this year the predictions were that the North Sea was entering a new era of investment.
While the UK Government's surprise tax grab on the industry in March may have taken the edge off the optimism, there is still plenty of life left in the North Sea.
BP is driving £3billion of investment in its Schiehallion project alone, and more major capital spending is expected from the supermajor.
As a result it says it needs an additional 300 upstream professionals and 150 graduates this year. And the impact will be felt by others as the supply chain picks up work.
But, with a limited and in parts ageing talent pool, competition from renewables and the likes of major nuclear construction projects in England, is the industry ready?
According to a report by Opito, the industry skills and training body, the labour market is the primary challenge for the industry.
It has found increasing evidence of companies, especially contractors, competing between each other for skilled, experienced staff, creating a culture of wage inflation and narrowing the skill pool.
Before the increase in the tax on oil and gas operators, it estimated the industry would need an additional 15,000 staff. After the tax, the number is still put at 10,000.
Gillian Black, policy affairs director at Opito, said one of the issues was that firms were not looking outside the industry to recruit. She added: "There is a tendency for the Scottish Government to focus on low-carbon energy and jobs. They could do that to the detriment of oil and gas.
"Let's make sure we get a fair share of funding and support for colleges and universities supporting us."
Oil and gas industry bosses admit they need to train more people up. But this year there were just 100 places available on Opito's Modern Apprenticeship scheme. Strikingly, most of these were at just 20 firms, with the majority at Shell and BP.
Ms Black said: "Over the next three to five years, the focus needs to be external. What we are doing is trying to attract younger people to see the industry has a future, but we have to work to change people's perceptions."
Bill Petrie, managing director of Wireline Engineering, which has just seen its first two trainees compete their Modern Apprenticeships, said: "At one time, you simply recruited the experienced people you needed, but that is no longer a secure strategy. The skill shortfall facing the oil and gas industry is a hugely limiting factor."
And the shortfall is across the disciplines.
Flexlife's subsea projects manager Paul Williams said the market for subsea engineers was already extremely competitive.
Engineering and project-management firm Amec said it had recruited 1,200 people this year. John Pearson, its managing director for natural resources in Europe and west Africa, said: "Every hour of every working day this year we have recruited someone."
Amec is looking to the long term. It has doubled its graduate intake to about 80 this year, is taking on more apprentices and also looking to transfer skills from other trades, such as bringing in ex-military personnel.
It is not as easy for others. Steve Nicol, CEO at subsea firm Red Spider, said it and the industry needed to train up more staff, but with fast growth they had had to recruit from other oil service companies. He added: "The people we have employed over the past year are mostly from other oil service companies as oil and gas experience is essential for us to meet our current growth strategy."
Amanda Chilcott, human resources director for BP in the North Sea, agreed with Ms Black that changing the perception of the industry would have the biggest impact on getting more people into it. She said: "There is still a tendency to perceive the engineering industry as not current, not sexy and not exciting.
"There is a mindset engineering is dead. We need to change that."
For at least one BP employee, 30-year-old mechanical engineer Rebecca Brannigan, the job is definitely exciting, especially with the amount of investment, opportunities for her own career progression, but also the technology being deployed.
She said: "I go offshore four times a year and it is rewarding. There are opportunities and a variety of roles worldwide but there is also a lot of new stuff happening in the North Sea, as much as in the rest of the world."
The industry, BP, Opito, and firms like Wireline, are trying to change the perception of the industry through work in schools and with colleges and universities.
For the 100 apprenticeships run by Opito, there were 2,000 applications this year; quite a surge from the previous year.
Could the tide be turning?
* * *
AROUND 81% of oil and gas companies projected growth, according to a survey by Opito earlier this year.
More than 50% said the labour market was their main challenge, with skills but also employability of applicants being a big issue.
The average age in the industry is 41.
BP said it was likely to need 1,000 new people for its North Sea operations over five years.
This year, it has already taken on 142 for these operations across the UK and Norway, onshore and offshore, with a further 70 being processed and a further 90 jobs to be filled by the end of the year.
It increased its graduate intake substantially this year, to 150, with 55 to be based in Aberdeen.
* * *
OVER the next few years, BP is to spend about £2.5billion a year in the North Sea.
Out of 32 major projects (worth more than £1billion) globally, six are in the North Sea. Four of those in the UK.
Of the six, three have been approved, including the recent £3billion Schiehallion development, to include a new floating production vessel and subsea development.
The others are the investment in the Valhall field, Norway, and the new Scarv floating production vessel for off Norway.
Due to be sanctioned is a major development of the Clair Ridge field, west of Shetland, to include a two-jacket platform, and subsea developments of the Kinoull and Devenick fields in the central and northern sector of the UK North Sea.
There is also ongoing drilling; 25 wells predicted a year off the back of a trebling of investment in seismic surveys over the past three years.
Trevor Garlick, managing director of BP North Sea, said: "It is a busy time, whether we are exploring, appraising or pushing recovery and getting new fields online.
"The tax changes haven't helped. It lowered the value of a lot of projects and made marginal ones more challenging than before. But a number of projects are still viable."
Recommended for you
X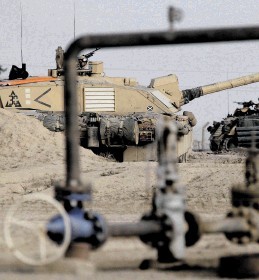 Iraqi IOCs qualify