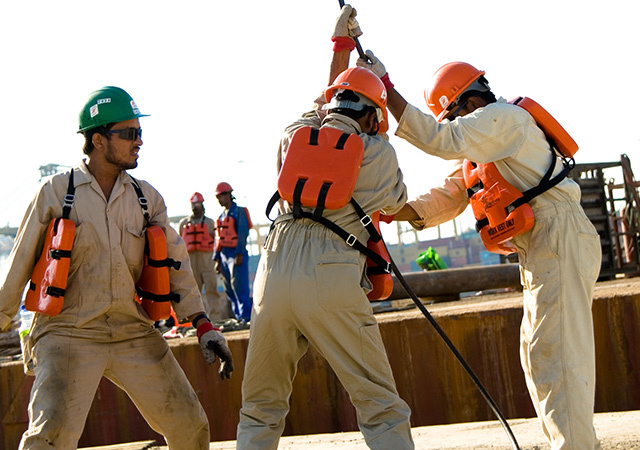 A Middle East firm which was handed a multimillion-pound fabrication deal for a giant Moray windfarm has "suffered significant overall losses", according to a new report.
In December, Dubai-headquartered Lamprell was commissioned to complete the construction of the £160 million Moray East offshore windfarm.
The deal – for 45 wind turbine jackets – was awarded by GeoSea, a marine contractor appointed by Moray East.
At the time Scottish unions expressed their anger that local troubled firm Burntisland Fabrication (BiFab) was not considered for the contract, which could have secured hundreds of jobs.
Lobbying in BiFab's favour, GMB ordered a financial review of Lamprell.
This was carried out by union-affiliated research group Acuity Analysis, which claimed another North Sea project – ScottishPower's East Anglia One offshore windfarm, which was over-run and over budget – contributed to losses of £38m at Lamprell in 2017.
The report said Lamprell incurred "unanticipated costs", such as additional labour.
Last night, Lamprell insisted it had a "strong balance sheet" and "good growth prospects".
But union leaders described the situation as an "absolute scandal".
The new report, seen by the Press and Journal, said Lamprell made "significant losses" from East Anglia One.
It also claimed Lamprell, whose shares have plummeted more than 40% since June, was likely to post a substantial widening of losses – double those for 2017 – for 2018.
A spokesman for Lamprell said the firm was "a well-capitalised business with a strong balance sheet, robust backlog and good growth prospects from a multi-billion dollar bidding pipeline" and it expected a year-end net cash position of more than £60m.
Lamprell had a £400m order backlog at the end of last year.
GMB Scotland secretary Gary Smith said: "To the outsider looking in, Lamprell has been awarded this (Moray East) contract on the basis of cost.
"But they have an undistinguished track record in UK renewables, and shipping jackets over 5,000 miles of sea doesn't lend itself to supporting local supply chains or the environment."
Mr Smith added the Lamprell deal was an example of the Scottish renewables sector being under the "stranglehold" of foreign firms.
Belgian firm GeoSea refused to respond to repeated requests for comment.​
Recommended for you
X

First Integrated boss says tycoon dad backs firm to grow