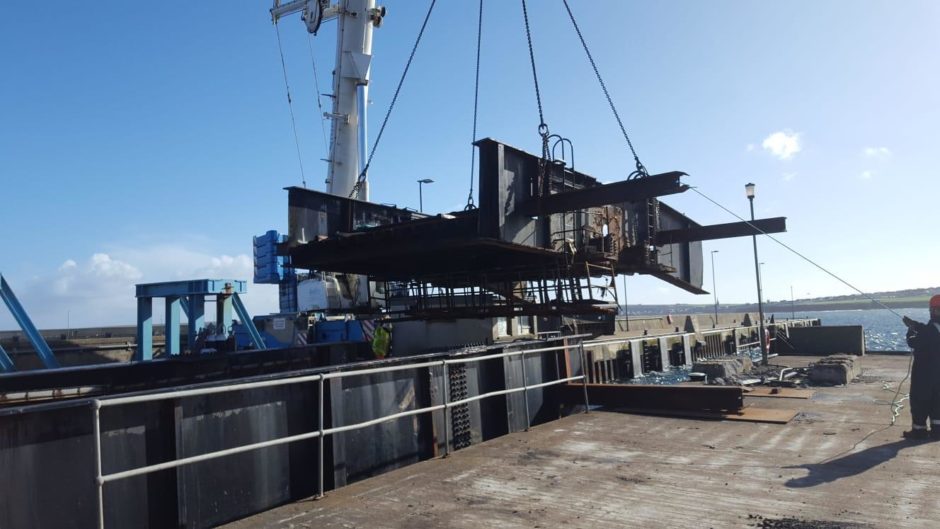 Orkney renewables supply chain firm Leask Marine has announced it has completed the decommissioning of the Ola Pier linkspan at Scrabster Harbour, Caithness.
The plans are part of a multi-million transformation of the harbour.
The 160 tonne linkspan structure was lifted by a 350 tonne crane before being cut into pieces.
It was then transported for 100% environmental scrappage.
The Nuclear Decommissioning Authority (NDA) announced this month it would provide £5 million investment to upgrade Scrabster Harbour.
The investment will look to improve capacity for vessels working in the oil and gas sector and increase the sites ability to receive cruise ships.
According to the NDA, the programme of improvements – worth £17m in total – could increase revenues for Scrabster Harbour by more than £210,000 over five years.
The NDA also said the improvement work is "likely" to create up to 50 new jobs.
Sandy Bremner, Leask Marine's project civil engineer said: "This was a great project for the civil engineering team and brought together the strengths of the full Leask Marine contracting resources"
Recommended for you
X

Opinion: Visions of cheese