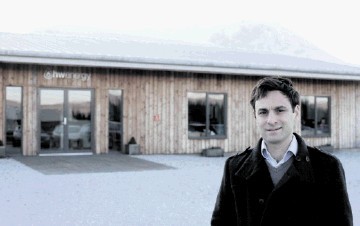 Highland biomass heat specialist HWEnergy said yesterday it had signed an agreement with the Scottish Government to provide renewable heat for public buildings.
Fort William-based HWE will be the government's top supplier of wood fuel and wood-burning boilers for locations including its offices, police and fire stations and medical centres under a new framework expected to save the taxpayer up to £8.5million over four years.
HWE said that the deal, expected to save 198,000 tonnes of CO between now and 2017, could be worth up to £7million for the company.
In the past, public-sector organisations have enlisted several firms to design, instal and maintain biomass generators. The new framework means the number of companies providing the service will be reduced, with HWEnergy named as the top supplier.
HWE managing director Bruno Berardelli said: "This is excellent news for us and testament to the knowledge and expertise we have built up in the company in the last decade. In that time we have provided wood-energy solutions to over 170 clients across the rural, commercial and public sectors.
"Biomass can help reduce heating costs by up to 50% and the CO emissions from heating the building to zero."
Mr Berardelli added the renewable heat incentive – which encourages people to generate their own heat using biomass by offering payments for every kilowatt-hour produced – would boost demand for the systems.
He said: "There is now great potential for biomass to save money for public sector buildings and the framework has established an approach which allows public sector organisations to achieve the benefits of biomass with minimal effort and minimal risk."
HWE, which has annual turnover of £7million, employs 40 people.
Deputy First Minister Nicola Sturgeon said: "This contract will reduce costs to the public sector, saving millions of taxpayers' money over the next four years. It is important for companies like HWEnergy because it supports jobs and encourages further growth and investment in Scotland's renewable-energy sector."