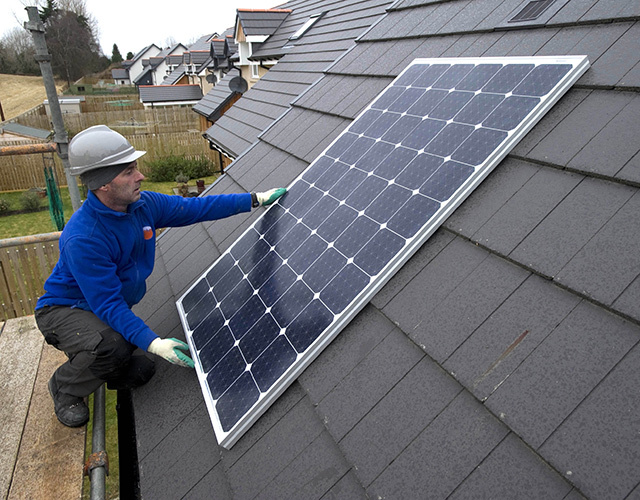 The UK now has more than a million "solar homes" that get electricity or hot water from the sun, the industry has said.
There were almost 800,000 domestic solar power schemes registered under the "feed in tariff" subsidy scheme by January, figures from the Department of Energy and Climate Change (Decc) show.
And the Solar Trade Association (STA) estimates there are now 775,000 square metres of solar thermal hot water panels in operation in the UK, which equates to around 258,000 homes.
While some homes may have both solar photovoltaic (PV) power panels and thermal arrays, most houses have one or the other, according to the industry, meaning there are more than a million households getting energy from the sun.
New figures from the Government also reveal that the amount of solar power overall in the UK has risen 66% in a year to more than nine gigawatts (GW) of capacity across more than 860,000 installations by January of this year.
Around half (51%) of the capacity is in large-scale solar farms, while just over a quarter (26%) is on homes, the data shows.
There was a big jump in solar power installed in March last year, the figures show, with 92% of it coming from large-scale schemes rushing to get in before the subsidy programme for solar farms closed.
Ministers have curbed a series of subsidies for solar power, arguing such a move is needed to prevent rising bills for consumers who pay for the support and that the technology can increasingly stand on its own.
The STA said the figures suggest that large-scale rooftop solar – which the Government has said it wants to see more of – on buildings such as factories and warehouses, is still only making up around 10-15% of the sector.
Leonie Greene, of the Solar Trade Association, said: "Decc's latest data proves the British solar industry can deliver the large volumes of clean power we need, and fast.
"However, the data also shows relatively poor levels of deployment of solar on larger buildings like schools, factories and warehouses, where this technology is particularly efficient and cost-effective."
She said the Government's policy for subsidies for large-scale rooftop solar was constraining growth and that there was also "no meaningful support" in the UK for solar schemes that were more than one megawatt (1MW) in size.
"We hope that Government will heed calls from right across the energy sector to get fully behind solar power again.
"Solar sits at the heart of a modern power system so the UK needs to channel precious investment towards clean technologies that can best secure our future," she urged.