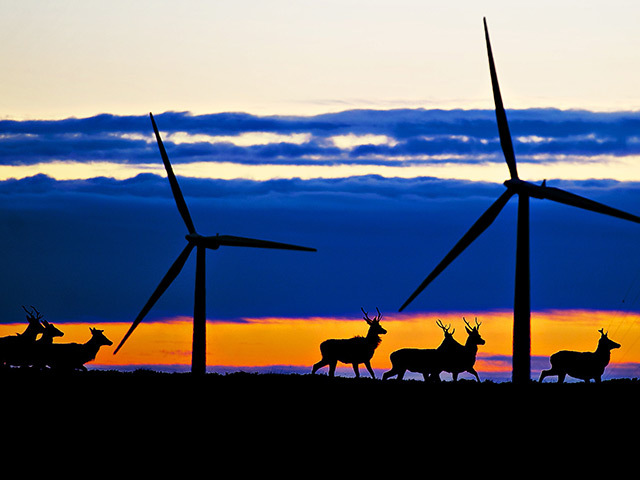 A new global wind power report highlights a "solid" UK performance despite a policy rollercoaster.
The Global Wind Energy Council (GWEC), the international trade association for the industry, delivered its verdict on Britain in its latest snapshot of a sector taking in more than 80 countries.
GWEC says 26 nations have more than one gigawatt (GW) of wind-energy generating capacity installed, with eight having more than 10GW.
General-secretary Steve Sawyer adds: "Wind power led all technologies in new power generation in 2015.
"Led by wind, renewables have come of age and are transforming the power sector."
In a section on the UK and its "solid" performance in 2015, the report says the industry was on a rollercoaster in terms of policy development following the election of a majority Conservative government in May.
It adds: "At the end of 2015, the UK's wind power capacity stood at 13.6GW, made up of 8.5GW of onshore and 5.1GW of offshore wind.
"In 2015, a total 403MW of onshore wind capacity was added, less than in any year since 2008, and much lower than the 1GW-plus in the previous three years.
"No exceptional projects were delivered in 2015, with the largest single project totalling only 12.5MW and only six projects totalling over 10MW.
"However, this would appear to be the calm before the storm, with over 2,500MW of capacity under construction, seeking to be in operation before the closure of the Renewables Obligation on March 31, 2017."
The report also highlights new records, such as wind power providing 11% of the UK's total electricity supply and breaking the 10% barrier for the first time.
Mr Sawyer and GWEC chairman Klaus Rave say 2015 was a stellar year for the wind industry globally, adding: "186 governments have finally agreed on where we need to get to in order to protect the climate for future generations.
"Now the question is whether or not they're going to take the actions in the short and medium term to get us there."
Recommended for you

Cabinet secretary for net zero and energy cuts ribbon on Moray East O&M base