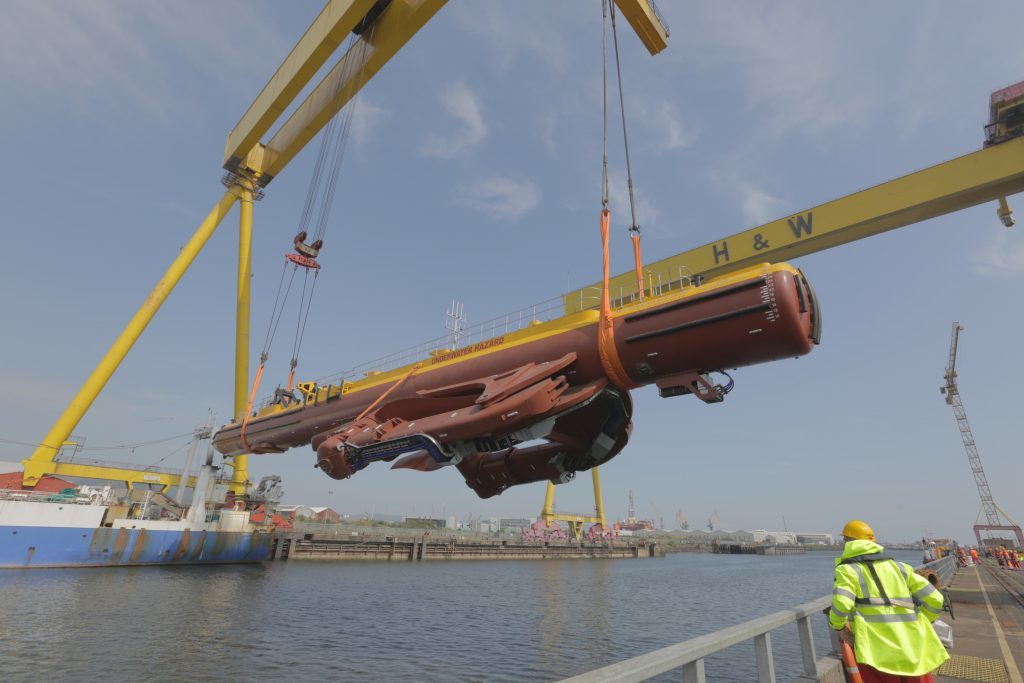 Orkney-based renewables firm Scotrenewables Tidal Power (STP) said today it had launched the world's largest energy generating tidal turbine.
The two megawatt SR2000 device, which is more than 200ft long, nearly 10ft wide and weighs 550 tonnes, made its official maiden appearance at Harland and Wolff (H&W) Heavy Industries' shipyard in Belfast.
It will undergo preliminary tow trials in Belfast Lough before being towed to the European Marine Energy Centre (Emec) in Orkney to commence a national grid-connected test programme.
SR2000 is the culmination of more than 12 years of engineering research and development, with the project supported by £1.25million under the Scottish Government's WATERS2 initiative.
STP chief executive Andrew Scott, said: "This is an exciting time for the company and a major milestone to reach, and is the result of an enormous effort by a dedicated team at Scotrenewables.
"We've also been fortunate to have been supported by a committed group of suppliers through the build, especially here with Harland and Wolff in Belfast."
He added: "We're now looking forward to getting the machine up to Emec and starting the test programme to demonstrate more of the clear engineering and cost advantages our approach can bring to the commercial tidal sector."
STP's progress has been underpinned by funding or more than £25million from investors including ABB, the Scottish Government's Renewable Energy Investment Fund, DP Energy, Fred. Olsen Group and Total New Energies.
DP Energy chief executive Simon de Pietro said the tidal-energy sector was already rapidly approaching maturity, and SR2000 was a "bold step forward" proving the viability of tidal as a sustainable, reliable and predictable energy source.
Steel fabrication of the machine was carried out by fabricators in Scotland, Northern Ireland and England, with assembly and commissioning taking place at H&W over the past year.
H&W chief executive Robert Cooper said: "We are very pleased to be able to deliver this state of the art device and to help Scotland and Northern Ireland develop new energy generating technologies."