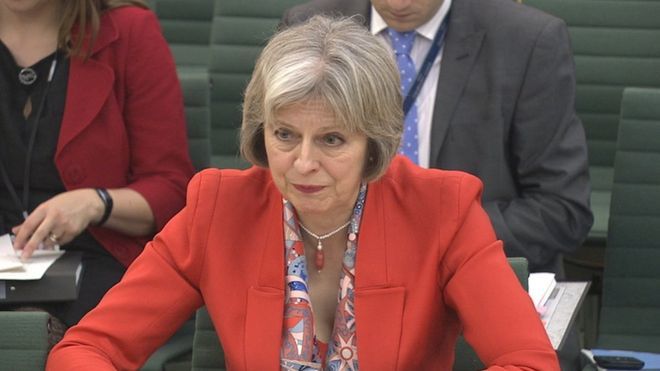 Prime Minister Theresa May has refused to deny she knew about a failed test of the Trident nuclear deterrent when addressing MPs before a crucial Commons vote on the future of the submarine-launched missile system.
Mrs May repeatedly failed to answer direct questions on her knowledge of the test, which reportedly took place weeks before MPs approved the £40 billion Trident renewal programme in July.
Reports in The Sunday Times claim that the launch of an unarmed Trident II D5 missile from a British submarine off the coast of Florida in June malfunctioned.
Mrs May did not mention this test in her speech, in which she urged MPs to back renewal, leading to allegations the malfunction has been covered up.
When asked about her knowledge of the test on BBC One's The Andrew Marr Show, Mrs May said: "I have absolute faith in our Trident missiles.
"When I made that speech in the House of Commons, what we were talking about was whether or not we should renew our Trident, whether or not we should have Trident missiles, an independent nuclear deterrent in the future.
"I think we should defend our country, I think we should play our role in Nato with an independent nuclear deterrent.
"Jeremy Corbyn thinks differently, Jeremy Corbyn thinks we shouldn't defend our country."
Asked again, Mrs May replied: "The issue we were talking about in the House of Commons was a very serious issue.
"It was about whether or not we should renew Trident, whether we should look to the future and have a replacement Trident.
"That's what we were talking about in the House of Commons, that's what the House of Commons voted for."
When host Andrew Marr asked about her knowledge of the test for a final time, Mrs May said: "There were tests that take place all the time for our, regularly, for our nuclear deterrents.
"What we were talking about in that debate that took place was about the future."
The newspaper said the cause of the failure remained top secret but questions could be asked over the Government's failure to publicise the failed test.
Previous tests have been publicised by the Government.
Labour MP and former defence minister Kevan Jones told the newspaper: "The UK's independent nuclear deterrent is a vital cornerstone for the nation's defence.
"If there are problems, they should not have been covered up in this ham-fisted way.
"Ministers should come clean if there are problems and there should be an urgent inquiry into what happened."
A Government spokesman said: "The capability and effectiveness of the Trident missile, should we ever need to employ it, is unquestionable.
"In June the Royal Navy conducted a routine unarmed Trident missile test launch from HMS Vengeance, as part of an operation which is designed to certify the submarine and its crew.
"Vengeance and her crew were successfully tested and certified, allowing Vengeance to return into service. We have absolute confidence in our independent nuclear deterrent.
"We do not provide further details on submarine operations for obvious national security reasons."
SNP leader Nicola Sturgeon tweeted: "This is a hugely serious issue.
"There should be full disclosure of what happened, who knew what/when, and why House of Commons wasn't told."
Kate Hudson, general secretary of the Campaign for Nuclear Disarmament, said the failed test "would have impacted on the debate in Parliament on Trident replacement".
"So the Government's motivation for holding back this vital information is clear," she added.
"Instead this crucial information has been revealed by a senior naval figure rather than by Government at the appropriate time to inform the Parliamentary debate.
"This is shocking behaviour on the part of our Government and it is profoundly to be hoped that Parliamentary opposition forces will hold Government to account for withholding information that is crucial to our national security."