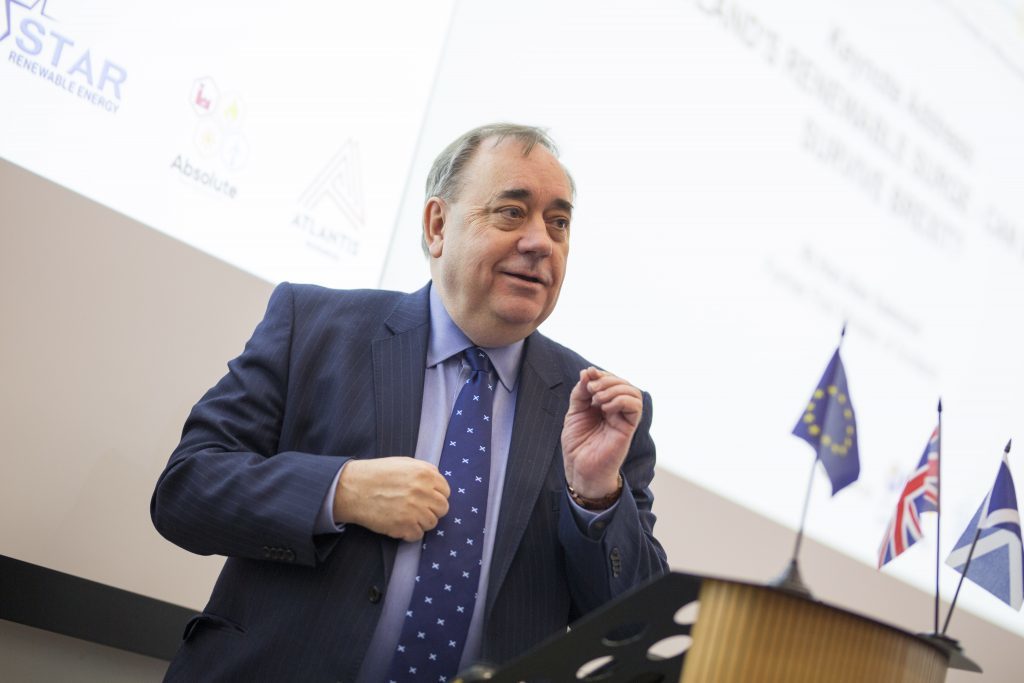 Former First Minister Alex Salmond believes policy should be put in place to ensure Scottish yards are given priority when bidding for renewables work in the country.
Speaking at the Renewables After Brexit Conference at Dundee University, Mr Salmond said MSP's should be given more power to influence contract awards.
Mr Salmond also said Brexit and delays to wind farm developments like Neart na Gaoithe had dented confidence in Scottish renewables.
He said: "It's an indication of the uncertainty that's in the offshore industry in particular, partly because of planning delays, but largely because of looming Brexit.
"We need a flow of new developments in offshore generation and we need companies like BiFab to be building them.
"We're through [the rough period] and are now at the stage where orders are being placed and it's the job of Scottish ministers to have the power to ensure that Scottish companies benefit from these rules."
But Mr Salmond is confident that Scotland can still flourish in the renewables sector post-Brexit if companies are open to the latest turbine technology.
He said: "We need to build up the supply chain. That's the design I had. I very much support offshore renewables. My view is that the best way forward is floating turbines, but we'll see soon. (Statoil's Hywind) demonstrator off Peterhead will tell us if that's the case.
"Hopefully we get the Aberdeen Bay Wind Farm off the ground and we can see other designs of turbines. The President of the United States has never fully been able to understand a wind farm in Aberdeen is just an example of new types of technologies.
"But let's pick the right technology for North Sea conditions. It'll have to be larger, or it'll be floating or it will be different from what we have now – certainly not onshore wind technology.
"Then companies will flourish in that environment because the structures required will keep people in business for generations to come."
Recommended for you

North America: enterprising, dynamic and opportunistic