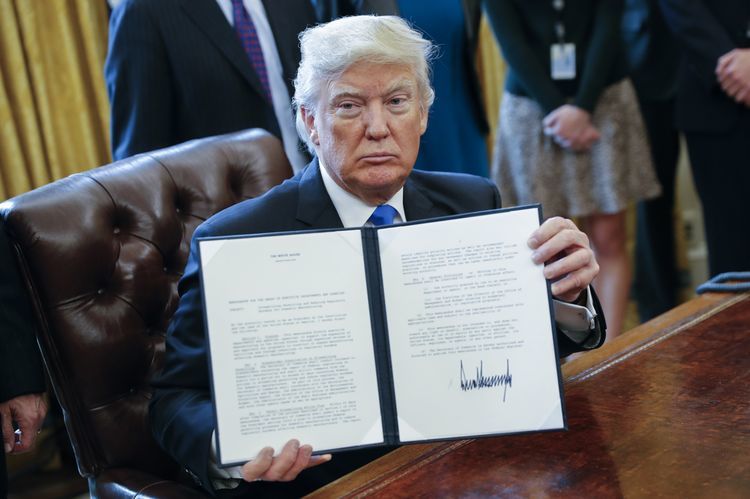 US President Donald Trump's decision to slap tariffs on imports of solar cells coming from Asia has been met with anger from the energy sector.
The law, introduced though an obscure legal loophole to protect US domestic manufacturers from "serious injury", will impose a 30% tariff on solar cells alongside 50% on washing machines.
Those within the growing US renewables sector have hit out in response to this move by Mr Trump claiming that it could cause the loss of nearly 100,000 jobs.
While Mr Trump believes these tariff's set a fairer deal for the American worker, many in the renewables sector believe this decision will only cost the US more, not less.
"Everyone will pay more, with fewer choices", said Samsung.
Patrick Maloney, CEO of clean power retailer Inspire, based in California, said: "Renewables aren't necessarily a substitute for other renewables. If solar gets more expensive, consumers may be left with only fossil fuel options—potentially setting back our progress towards a cleaner energy future."
Mr Maloney charged President Trump with continuing a "war on renewables" and insists that today's decision will cause less consumer choice not more.
He said: "President Trump's decision to impose a 30% tariff on solar is disappointing. While the tax may seem moderate compared to the rate that Suniva and SolarWorld sought, it will significantly limit solar's ability to compete in the marketplace. Initial numbers from SEIA project it would eliminate up to 84,000 American jobs by 2020. This continues the war on renewables.
"We've already seen foreign solar manufacturers double their shipments in anticipation of tariffs, further proof that the demand for clean energy options is already there. Unfortunately, solar tariffs potentially limit this choice."
Frank Yu, Asia-Pacific power and renewables principal consultant at Wood Mackenzie, claims that today's decision will only serve to shift the speed of growth within the sector to the emerging markets of Asia and India, while oversupply of solar cells may provoke a renewables boom in Southeast Asia.
Mr Yu said: "The duty barrier will shock Asian suppliers in the near term and they will likely switch gears to penetrate more into the growing Asian markets to offset the impact. Years ago to avoid the anti-dumping duty, Mainland China and Taiwan solar panel manufacturers set up plants in other Asian countries such as Malaysia and Vietnam.
"These countries have been exporting panels to the US and direct export from China has been dropping. With Trump's duty barrier in place, China won't get hit as much as its domestic market is still growing strong.
"In addition, emerging markets such as India is likely to draw more Southeast Asian production to feed its solar capacity growth. With oversupply situation developing in the APAC region, Southeast Asian countries could also ramp up their new build projects and thus reduce reliance on the export market."
Recommended for you

Asia Pacific solar capacity set to triple by 2030