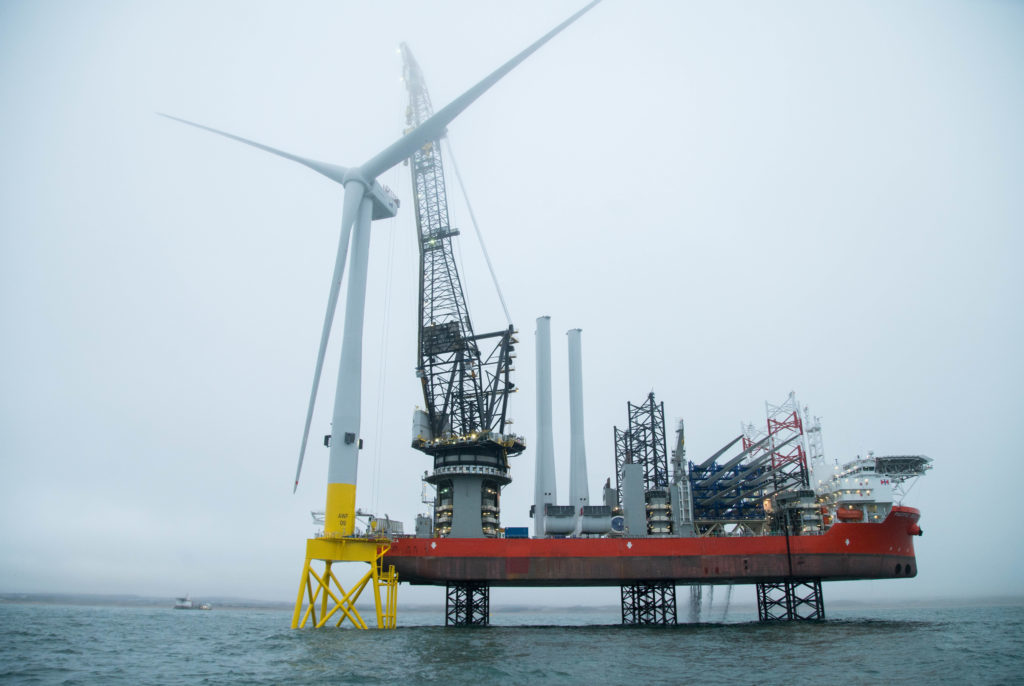 With the first turbine installed at Aberdeen Offshore Wind Farm yesterday, developer Vattenfall is claiming a number of renewable energy industry firsts.
Vattenfall say that the first of 11 turbines is already the world's most powerful, able to power the average family home with one turn.
However, Vattenfall are also claiming an industry breakthrough with the update of two of its turbines from 8.4MW to 8.8MW, which the company say is "first time" such a model has been "deployed commercially in the wind industry".
The upgrade will boost the output of the finished wind farm to 93.2MW at the finished European Offshore Wind Deployment Centre (EOWDC).
MHI Vestas has specially designed the V164-8.4 MW and V164-8.8 MW turbines which all have a tip height of 191 metres. Each blade is 80m long – slightly taller than Aberdeen's Marischal College – and the 164m rotor has a circumference larger than that of the London Eye's.
Gunnar Groebler, Vattenfall's head of business area wind, said: "The turbines for the EOWDC, Scotland's largest offshore wind test and demonstration facility, help secure Vattenfall's vision to be fossil fuel free within one generation.
"The EOWDC, through its innovative approach to cost reduction and pioneering technologies, leads the industry drive towards generating clean and competitive wind energy power – one that will reinforce Scotland's global energy status."
The Aberdeen Offshore Wind Farm is also the first development to utilise the new suction bucket jackets embedded in the sand off Aberdeen at commercial scale.
EOWDC project director at Vattenfall, Adam Ezzamel, said: "The first turbine installation is a significant achievement and credit to the diligence and engineering know-how of the project team and contractors. For it to be one of the 8.8MW models makes it an even more momentous moment because it further endorses the EOWDC as a world-class hub of offshore wind innovation.
"We are very excited by the cutting-edge technology deployed on all the turbines and it is remarkable that just one rotation of the blades can power the average UK home for a day."
Jean Morrison, Chair of Aberdeen Renewable Energy Group (AREG), said: "The EOWDC is leading the way in terms of innovation for the offshore wind sector and will help enable the next generation of offshore wind. It's a real coup for the region to have the world's most powerful turbines on its doorstep and cements Aberdeen's position as a major global energy city. It also will lead us to a greener future."
Recommended for you

Ocean Winds fires starting pistol on Caledonia offshore wind farm