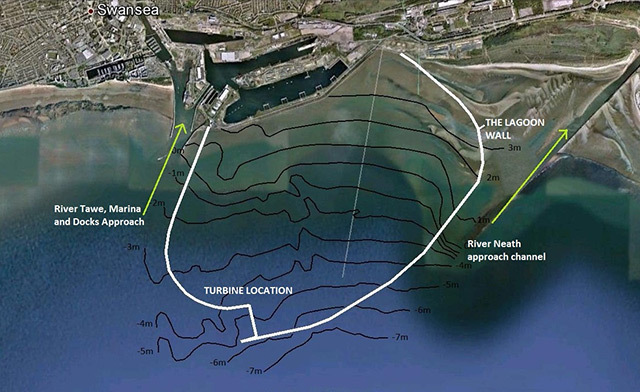 The Government has refused to back a "world first" tidal lagoon project to generate clean energy from the tides on cost grounds.
The company behind the scheme, Tidal Lagoon Power, wanted subsidies similar to those for new nuclear power to build the £1.3 billion scheme, consisting of a U-shaped sea wall with turbines in Swansea Bay.
The lagoon had been backed as a "pathfinder" project to develop the tidal technology by an independent review for the Government.
But Business Secretary Greg Clark told the House of Commons the project "however novel and appealing" did not demonstrate value for money for consumers and the public purse.
Energy minister Greg Clark, said to Parliament today: "We believe in renewable energy and we believe in the benefits of innovation.
"The conclusion of this analysis – which has been shared with the Welsh Government – is that the project and proposed programme of lagoons do not meet the requirements for value for money, and so it would not be appropriate to lead the company to believe that public funds can be justified.
"The proposal for the Swansea tidal lagoon would cost £1.3 billion to build. If successful to its maximum ambition, it would provide around 0.15% of the electricity we use each year."
Liz Saville Roberts MP, Plaid Cymru's energy spokeswoman at Westminster, said: "Every single party represented in the National Assembly has backed the Swansea Bay Tidal Lagoon and yet, Westminster has told us we can't do it.
"It is a sorry state of affairs that our national parliament can be so wilfully overruled by a Westminster Government over the border, for whom the people of Wales did not vote.
"Wales's coastline is an untapped resource. The tidal lagoon would have been a first step towards making Wales a world leader in a new and innovative technology with the potential to power our future.
"Westminster is refusing to invest to create well-paid jobs in Wales, while at the same time threatening the ones which already exist, through its irresponsible stance on Brexit.
"This latest block on Wales' future is a perfect demonstration of the need for Wales to gain greater control over its own future.
"We cannot continue to allow our country to be held back by Westminster."
RenewableUK's chief executive Hugh McNeal said: "This decision is deeply disappointing and shows a lack of vision. Tidal lagoons have massive potential to meet our national energy needs and create jobs, as well as bringing industrial-scale economic benefits to the UK – including opportunities to export worldwide. The review commissioned by the Government on this innovative technology found that it can deliver secure power at a price that's competitive in the long term.
"The UK's future energy mix will be powered by a range of low carbon technologies. We know that with the right support, tidal energy can quickly become competitive on cost with other renewable and low carbon power like nuclear.
"With supportive policy and continued investment, we can rapidly cut the cost of new technologies and build world-leading industries. But at present there is no financial support on offer from government for marine renewables – or any new, innovative technologies. These are high-value new technologies that the UK can export to markets across the globe."
The Director of RenewableUK Cymru, David Clubb, said: "This means that the region will not benefit from many thousands of jobs from the project and the associated supply chain.  The loss in skills, supply chain and economic activity to Swansea, the region, to Wales and to the UK is colossal.  It means that the pathfinder project, described as being a 'no-regrets' decision by an independent review, which could have led to a whole series of projects across Wales with benefits UK-wide, will have to seek another mechanism of financial support, or will not go ahead."
Recommended for you

China offshore wind offers niche opportunities for Scottish players