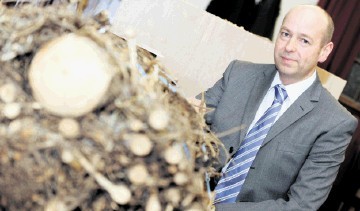 Speyside residents gathered yesterday to look at plans for a biomass plant which could create more than 100 jobs.
Renewable-energy company Estover Energy revealed proposals last week to build the plant at Craigellachie Wood.
The firm has estimated 40 permanent jobs could be created if the plant is built, with another 100 posts created during construction.
Estover Energy hopes to build the biomass plant to provide electricity for the national grid, using low-grade wood, and to provide low-carbon energy to the nearby Macallan distillery in the form of steam.
There was a mixed reaction to the plans at a public consultation event at Craigellachie Village Hall yesterday.
One resident, who asked not to be named, said: "It's not particularly clear where it's going to be sited. I am very concerned about the fact it's going to be up to 130ft high. I don't think the road is suitable for it as there's been a number of accidents on it.
"I do appreciate that jobs are few and far between but surely there's only a limited supply of wood."
Meanwhile, Ken Walker, of Aberlour, said: "Biomass is the way ahead and we have to look at our resources. But it's essential that the plans are sensitive to the landscape. Tourism is a big part of our economy in Speyside.
"I am pleased they have held a public consultation at an early stage."
Henry Warde, director of Estover, was on hand to answer questions from the public alongside representatives from The Macallan.
He reassured locals only low-grade wood, such as brash, would be used in the plant, allaying farmers' fears that draff – a barley by-product that is used to feed livestock – would be used.
Mr Warde said the plant would be in Craigellachie Wood, just off the A941 Craigellachie-Archiestown road, near The Macallan distillery.
The wood will come from a 40-50-mile radius and the plant could accommodate up to 25 lorry loads a day.
Mr Warde said there would be no visual impact from Craigellachie but the plant could be seen from Archiestown and the northern outskirts of Aberlour.
The building would be 104ft high, and the chimney would be 131ft high, rising above the trees, which are 70ft high.
Mr Warde insisted concerns about visual impact, traffic and emissions would be fed into the plans, which are at an early stage.
The company has not yet submitted a planning application.
Estover Energy's announcement came just days after several other jobs boosts were announced for the area. Baxters Food Group said it was buying Fray Bentos, triggering a multimillion-pound investment at its Fochabers base and creating between 100 and 125 jobs.
At Forres, business outsourcing firm Capita announced it is to recruit 100 employees for its call centre there.