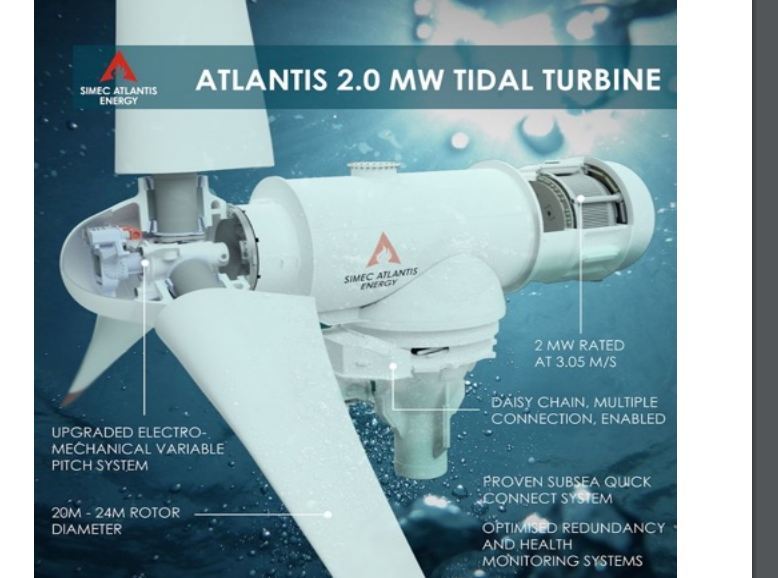 SIMEC Atlantis (SAE) has unveiled designs for the world's largest single-rotor tidal turbine, which is planned for deployment in Scotland.
The firm has invested more than £5million in the development of the AR2000, which has a 25-year design life.
SAE says it can compete with other renewable sources when deployed at scale.
The turbine is expected to be used in latter phases of SAE's MeyGen project in Shetland, the largest tidal array in the world.
The two megawatt turbine has been in development for two years  and will go on the market in Q4 of next year.
It builds on the "successes and lessons learned" on the AR1500 which is being used at MeyGen.
SAE said it is already in discussions with various governments and developers to identify locations for manufacture and testing of the technology.
The firm believes the project will herald "the next phase of large scale array deployment".
Drew Blaxland, director of turbine and engineering services, said: "The AR2000 marks the culmination of 15 years of investment, relentless experimentation, rigorous testing and subsea operation.
"Not only will it be the largest single rotor turbine in production, it will be the backbone of a highly efficient and cost-effective generation system capable of deployment in each of our key target markets in the UK, France, Channel Islands, Asia, Australia and Canada.
"The AR2000 system has been designed to deliver a lower levelised cost of energy and increased reliability. Combining a larger rotor diameter with a drive train capable of being daisy-chain linked, optimised redundancy and quick connection, will deliver an offshore generation system that can compete with other comparable sources of renewable generation when deployed at scale.
"A relentless commitment to continuous learning and improvement has paid off, because we firmly believe that the AR2000 will now carry the industry into the next phase of large scale array deployment."
Recommended for you

CfD results a 'turning point' for Scottish tidal power