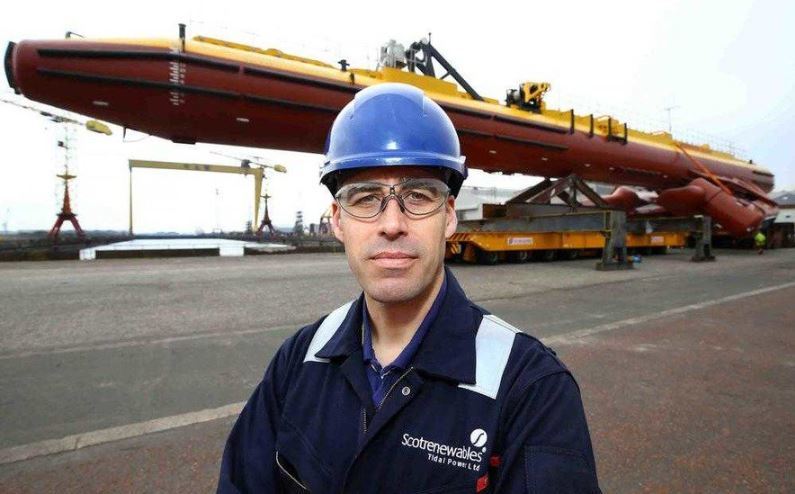 A multi-millionaire technology developer has been named as the new investor in tidal firm Scotrenewables.
Matt McGrath, who sold his firm Aircraft Medical for £72 million, will join the Orkney-based company's board of directors, joining his sister Sian George who has chaired the board since February 2016
While still at university, Mr McGrath developed a tool which revolutionised anaesthesia and throat surgery, forming the basis of Aircraft Medical before its sale in 2015.
Matthias Haag, project director for the Neart na Gaoithe (NnG) wind project, is also thought to be an investor.
The undisclosed cash injection comes as Scotlrenewables begin a new turbine build at the European Marine Energy Centre in Orkney.
Scotrenewables chief executive, Andrew Scott, said of the investment: "As we enter a new exciting phase of turbine build and commercialisation, the new appointments add significant industry and commercial experience and I'm looking forward to having their support and input."
Last month, Mr Scott warned that the marine energy sector was at "real risk" due to the removal of government subsidies, forcing firms to seek private investment.
Scotrenewables announced an industry benchmark in August as the SR2000 tidal turbine generated more power in the past year than the entire Scottish marine energy sector managed in the 12 years prior to its launch.
Mr McGrath last night described Scotlrenewables as a firm that has "enormous potential" and who build "technology that works".
Scottish Energy minister Paul Wheelhouse said "I am delighted that Scotrenewables Tidal Power has secured private investment that will support its ongoing development so soon after it announced that its 'SR2000' tidal turbine in Orkney – the most powerful turbine deployed in the World – has already generated 3 GWh of electricity to the grid in the past 12 months.
"Scotland continues to lead the World in the development and deployment of tidal stream technologies and this latest investment is yet more evidence of the strength of Scotland's marine energy sector; a sector that has a potentially significant role to play in the energy transition, both at home and in international markets."
Recommended for you

UK Government announces £20m ring-fenced tidal funding in upcoming CfD