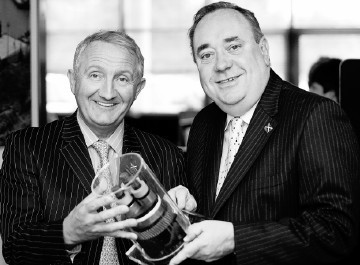 The north-east's renewables credentials were given a boost yesterday as engineering and construction group Technip launched its new offshore windpower division and signed an agreement with Iberdrola.
Technip Offshore Wind, based at Westhill Business Park, is to work with the owner of Scottish Power on a joint bid for two major offshore windfarms off the French coast with a total 1.25 gigawatts (GW) of power.
Spanish group Iberdrola had already agreed to work with French nuclear and offshore wind construction firm Areva on the bid. Areva would supply wind turbines.
Technip's involvement in the project, led by Iberdrola's Scottish Power Renewables, would see the Paris-based firm working on French windfarms from its Aberdeenshire-based offshore wind headquarters.
The French government has a target to introduce 6GW of offshore wind capacity by 2020.
Technip chief executive Thierry Pilenko said the new business was already bidding for other work in the UK in addition to France, Germany and the rest of Europe.
He said although Technip launched its renewables ambitions 18 months ago, buying assets of Subocean earlier this year gave the firm the critical mass and credibility in the UK and the Continent.
Mr Pilenko added: "This is a great opportunity for Technip and a great opportunity for people here in Scotland who have the skills to help us win this business."
He said there would be a need for staff, however, adding: "We all have a responsibility to recruit people into the industry, it will need a lot of people to make it happen."
Ron Cookson, senior vice-president at Technip Offshore Wind, said: "Joining the consortium represents a key milestone for us in the development of our business and is indicative of our commitment to this growing sector."
In addition to bidding for work, he said the business would be building its understanding and skills in the industry.
"In general terms in the offshore wind industry, cost needs to become and remain competitive against other renewables," he said, adding that government needed to make consenting processes easier.
First Minister Alex Salmond, who opened the division's new offices in a ceremony yesterday, welcomed the move and said it came hot on the heels of other investment in renewables in Scotland from international firms including Gamesa and Mitsubishi.
* * *
TECHNIP first announced its move into renewables in February 2010.
The firm said the Granite City would become head office to Technip's offshore wind, wave and tidal-power activities.
Its first move into offshore wind came later that year when it threw its weight behind Aberdeen Renewable Energy Group's test windfarm site in Aberdeen Bay off Blackdog.
Technip then bought assets of Westhill-based cable laying firm Subocean from administrator PwC for about £10million in January, adding renewables capability and about 300 staff to its operations.
Technip Offshore Wind was created in June as a formal entity.
It moved into offices at Westhill Business Park two weeks ago and now employs more than 110 people, many of them former workers at Subocean.
Technip employs 23,000 people globally with about 800 onshore and 1,500 offshore in the north-east.