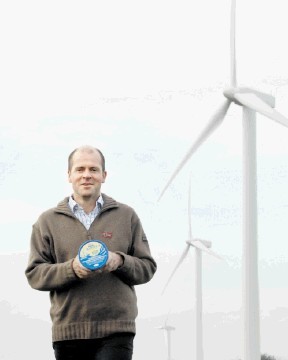 SCOTTISH businesses and an environmental organisation have called for more firms north of the border to sign up to a consumer label which highlights products made thanks to wind energy.
Rothienorman ice-cream firm Mackie's of Scotland was among the companies which joined WWF Scotland in backing the WindMade brand, which is already used by businesses including Lego and PwC.
The WindMade label aims to make consumers aware of goods which are made using the renewable energy source and increase demand for these products.
Mackie's, which employs 70 people, has three wind turbines. It uses around 30% of the power it produces, and exports the rest to the grid.
Managing director Mac Mackie said: "Our investment in wind power generation has been hugely successful.
"In a world where electricity and energy prices will continue to rise, the natural resource of wind is an investment which makes a serious contribution to our bottom line.
"Our consumers have told us that it is important for them to know that our ice cream is made with renewable energy, so the idea of a label to help consumers identify products made using wind power is something we welcome."
Midlothian-based leaflet and poster distributors EAE and Renfrewshire-based retailer M&Co have also given their support to the WindMade campaign.
Richard Dixon, director of WWF Scotland, said Scotland's natural resources meant it was "the place to come" to produce goods using renewable methods.
"In time we hope many Scottish firms will qualify for a WindMade label," he said.