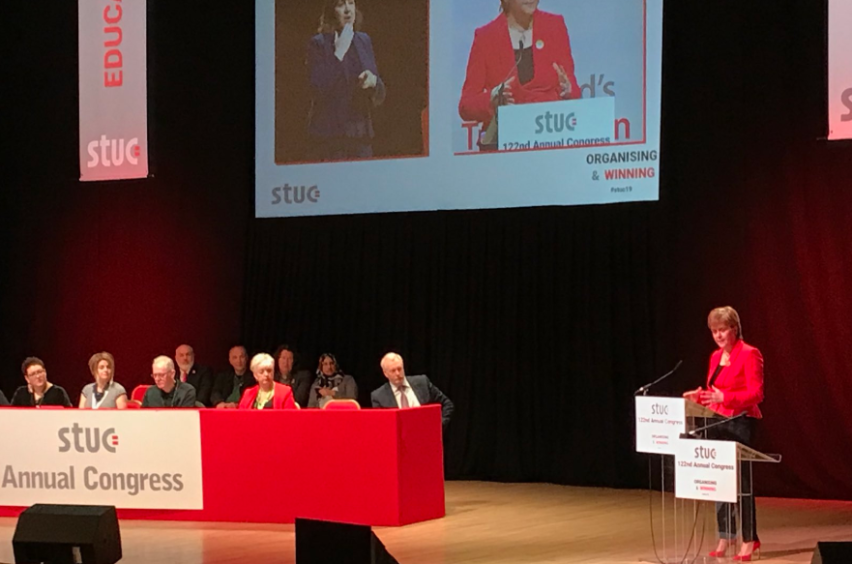 Blame for a perceived shortfall in Scottish renewable energy jobs in the north-east has been laid at the feet of government by the country's trade union body.
In a new report, the Scottish Trades Union Congress (STUC) has called the inability to secure a renewables boom for Aberdeen and the north-east a "failure of successive governments".
It goes on to claim that past Scottish and UK Government jobs predictions have not been met.
The STUC called for the Scottish Government to implement a "proper industrial policy" to safeguard and create jobs.
First Minister Nicola Sturgeon addressed STUC members at its annual congress in Dundee this week.
The Scottish Government last night hit back at its renewables jobs record, calling it a "significant result".
It claimed the Scottish low-carbon and renewable energy sector supported more than 46,000 jobs and generated more than £11 billion in turnover in 2017.
STUC general secretary Grahame Smith said: "Most people accept that we need to make a decisive shift towards lower emissions.
"However, our report highlights the failure of successive governments in delivering the promised renewables boom for Aberdeen and the north-east.
"Nowhere more than here is it important that employers and government are able to demonstrate that the conversion from fossil to renewables can bring new jobs and decent pay.
"Fabrication and maintenance of onshore and offshore renewables comes at a significant economic cost if undertaken from abroad, not to mention a higher carbon footprint."
The report highlights a number of projects in the north-east, including Beatrice Offshore Wind Farm, Moray East Offshore Wind Farm and the Kincardine floating wind project.
The STUC report has been provoked by claims from the GMB and Unite unions that many contracts are going to foreign firms.
GMB Scotland secretary Garry Smith described the situation as an example of "what happens when politicians preach and don't plan".
A spokesman for Moray East, due to begin construction in 2021, said his project has been "extremely proactive" in pointing out how local companies can compete for for supply contracts.
A Scottish Government spokeswoman added that it recognised the "economic opportunities and challenges", adding that the government want "constructive dialogue to be the central pillar of our approach" to the energy transition.