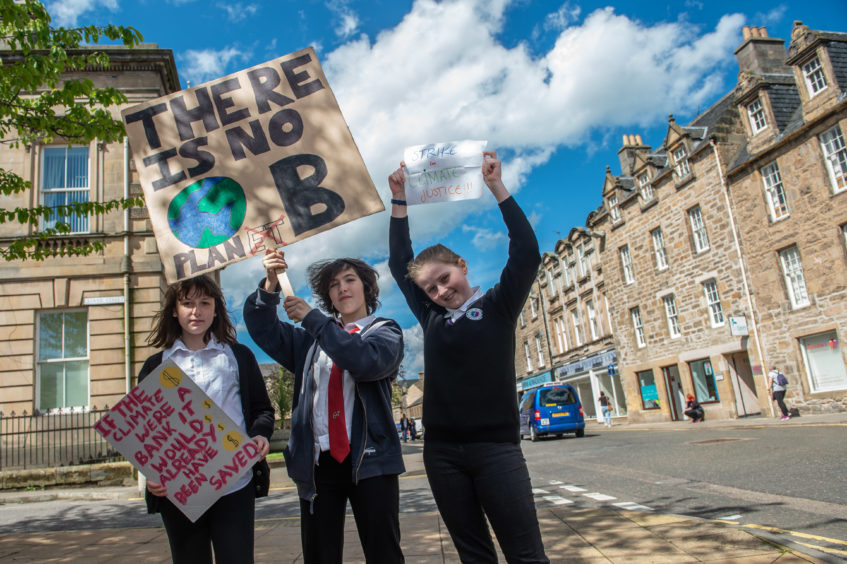 A group of Moray schoolgirls looking to fight for their future have formed a climate change group and and kicked-off their efforts with a protest in Elgin on Friday.
Inspired by 15-year-old Swedish activist Greta Thunberg, Hannah Weir, 12, and her friends Martha Allsop, 13, and Bria Alexander, 12, stood outside the Moray Council headquarters for two hours to demand action is taken as soon as possible.
The group have created a new organisation called Moray Climate Action and hope to catch the attention of local people by holding regular protests throughout the region.
Hannah wants to raise awareness of the impending threat climate change and show the Scottish Government and the local authority that they should be taking action now.
Speaking at the protest yesterday, the youngster said: "We decided to strike for our future today because while the Scottish Government has declared a climate emergency, it has said the climate bill will be in place by 2045.
"We think that is too late.
"We have been inspired by Greta Thunberg and all of the other young people who are striking across the world.
"It made us feel like we should get involved because we were striking at our school, Speyside High, but nothing was really happening because we were not allowed off school grounds.
"We decided to come here, where there are a lot more people, hoping that if they saw us they might actually do something about it."
Moray Climate Action aim to strike at the council headquarters every Friday between 11am and 1pm to show solidarity with protests across the globe.
With the potential for her future prospects to be detrimentally affected by climate change, Hannah hopes the protests will make a difference.
She said: "It's very important to raise awareness about this as we are at the point where most of us are scared to have children because they won't have a future and won't be able to live really.
"We are at the point where we really need to do something."
Martha added: "I got involved in this because I wanted to support my friend and also because it is a really good cause.
"We only have 11 years I think for us to do something or it will be irreversible."