PRIME Minister David Cameron has dismissed fears that his controversial veto in Brussels could make it more difficult to block EU plans to seize regulatory control of the North Sea oil and gas industry.
The Tory leader's remarks were made as he defended his decision in the Commons – with Deputy Prime Minister Nick Clegg notably absent.
MPs heard of north-east concerns about the proposed new EU regulation, which the industry has warned could undermine all the safety work in the UK's offshore sector since Piper Alpha.
Sir Robert Smith, Liberal Democrat MP for West Aberdeenshire and Kincardine, asked Mr Cameron if the veto would make it easier or more difficult to secure enough votes to ensure the regulations are withdrawn.
The prime minister said: "I don't think what happened last week will have any impact on that decision because these are issues which are dealt with in the single market and an organisation set up outside it can't cut across existing treaties or legislation.
"We should work very hard to make sure we get a good deal for the North Sea".
After the debate, Sir Robert said he wanted Mr Cameron to recognise the need to build alliances in Europe on such issues, but did not criticise the prime minister's veto.
Fellow Lib Dem Malcolm Bruce – MP for Gordon – also backed the stance. He reminded the Commons the world faced the "worst financial crisis in living memory" and that the UK's coalition government had a plan to deal with it and the eurozone did not.
Their party leader failed to attend the prime minister's statement, however, exposing divisions in the coalition.
Mr Clegg said he did not want to provide a "distraction" by being in his usual place beside Mr Cameron.
That was branded "cowardice" by one Tory MP and Mr Cameron's statement was repeatedly interrupted by Labour shouts of "Where's Nick?".
The prime minister was given a rousing reception by eurosceptics on his own benches, who hailed him for standing up for Britain.
He said he negotiated in "good faith" but was forced to block a treaty of all 27 member states after the others refused to agree to "modest, reasonable and relevant" safeguards for the City of London.
Labour leader Ed Miliband accused Mr Cameron of neglecting the national interest to appease eurosceptics, with a result that was "bad for Britain".
He added: "How can you expect to persuade anyone else it's a good outcome when you can't persuade your own deputy?"
SNP Treasury spokesman Stewart Hosie asked why the prime minister had not consulted the UK's devolved administrations. Afterwards, he said: "The prime minister has effectively torn up the terms of his own concordat with the devolved administrations in order to pander to the little Englander on the Tory backbenches."
Recommended for you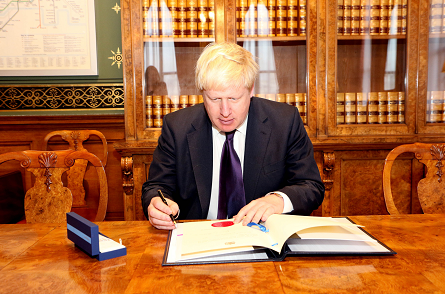 Boris Johnson to resign as prime minister after revolt from MPs