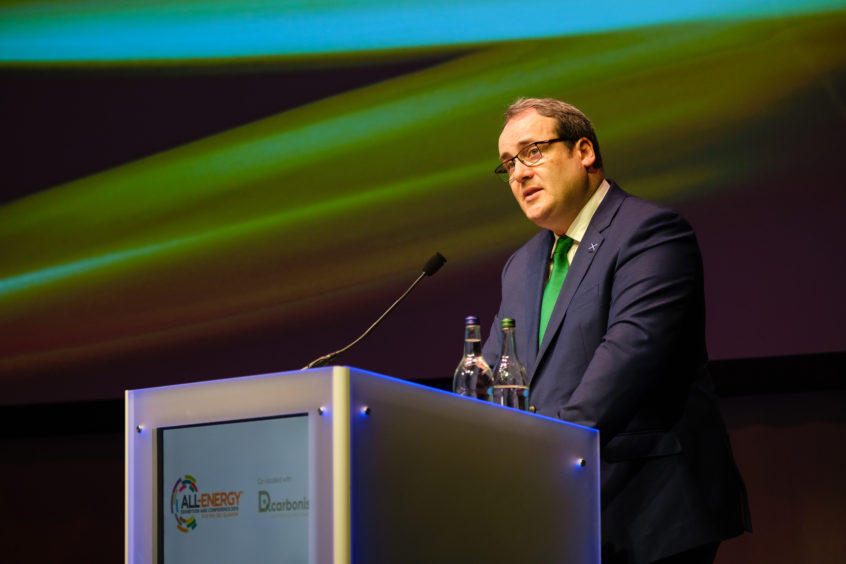 Scotland's Energy Minister said yesterday that his government "regrets" the lack of provision made for local firms within rules for offshore wind project auctions.
Paul Wheelhouse described the current structure, set up by the UK Government, as a "one trick pony" and vowed to push for changes.
He was speaking at the opening of the Beatrice Offshore Wind Farm in Wick yesterday.
Mr Wheelhouse said the Scottish Government will attempt to influence Westminster to consider the "value, not just the price" of including a provision for local companies as part of the Contracts for Difference (CfD) auction rounds.
The CfD process is the system that determines which wind farms get to deliver energy to the grid.
Scotland will have new powers this year with the creation of the devolved Crown Estate Scotland.
However, the UK Government has final say on any alterations to the current structure.
Mr Wheelhouse said: "While the CfD has been welcomed for bringing down prices for consumers, it has put a lot of pressure on the supply chain to help deliver these projects at the lowest cost.
"That means in practice we're seeing projects being sourced from overseas, which we regret, and we want to do more to make sure the Scottish supply chain can capitalise.
"Derek Mackay, the finance secretary, myself and my colleagues are looking at how we can use the powers we now have within the Crown Estate Scotland licencing – the first time we'll be using them – to try to steer the next auction round to use as much supply chain content as possible."
CfD's are awarded using a competitive auction to determine a fixed price for power produced for a period of 15 years.
It is hoped the new auction round will support up 2 gigawatts (GW) of new capacity per year to 2030.
But worker's union GMB described the situation for local Scottish firms as "a scandal" that "shows no signs of changing".
The union's Scotland secretary, Gary Smith, said: "How can it be that a country which possesses a quarter of the continent's offshore wind resource is left fighting for scraps of work and prosperity from its own market?
"This is what industrial and political failure looks like."