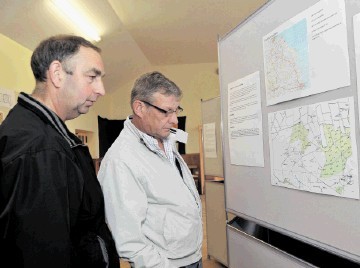 AMBITIOUS plans to build a major windfarm on the slopes of a popular north-east hill have been revised following fears it could impact on Scotland's only white horse monument.
Developers want to build 12 turbines at Mormond Hill, near Strichen.
The 330ft masts would generate enough electricity to power tens of thousands of homes and the scheme could pump up to £50,000 into community projects.
But Turriff-based Muirden Energy, which unveiled its plan in April, was forced back to the drawing board amid concerns one of the turbines was too close to the hill's famous white horse.
The one-acre equine attraction, which is made of white quartz stones, has stood proudly on the 750ft slope for more than two centuries and is the only one of its kind in the country.
During a public consultation, Muirden Energy chiefs were told by local people that the horse could be overshadowed by a nearby mast.
Last night, the company unveiled its revised plans to the public at Rathen village hall.
Business development manager Alex Fowlie said: "We held a public consultation exercise earlier in the summer and the response was overwhelmingly positive."
He said three-quarters of those who attended supported the scheme.
"It was pointed out to us that one of the turbines may have been too close to the white horse and there were concerns it could block the view," he added.
"So we went back and tweaked the plans. We are still looking at the same number of turbines. Hopefully, now, there will be no problem with the layout."
Feedback from last night's consultation will be used to draw up an application for planning consent, which is due to be submitted to Aberdeenshire Council in the coming weeks.
The firm has already issued the local authority with a proposal for application notice – the first stage in the planning process for all major developments.
Last month, Muirden Energy lodged plans for a temporary 130ft anemometer which would be used for measuring wind speeds.
The application is being considered by Aberdeenshire Council and is expected to be brought before councilors in the coming weeks.
Energy4All, a not-for-profit company set up to lead community-owned clean energy schemes, is working with Muirden to consider ways of introducing a public share offer. This would enable people to invest in the project and benefit from it.
The group is using a similar scheme at a windfarm at Boyndie, near Banff, as a template.
As part of the offer, those living nearby would be able to invest for a guaranteed minimum return of 10%.
The Mormond Hill summit was home to a Nato radar station during the Cold War. There is still evidence of telecommunications but part of the hill is now a sporting estate. Its slopes are festooned with farms and small settlements.
A huge stag figure is carved on one side of the hill – which is visible from the A952 Mintlaw to Fraserburgh road.