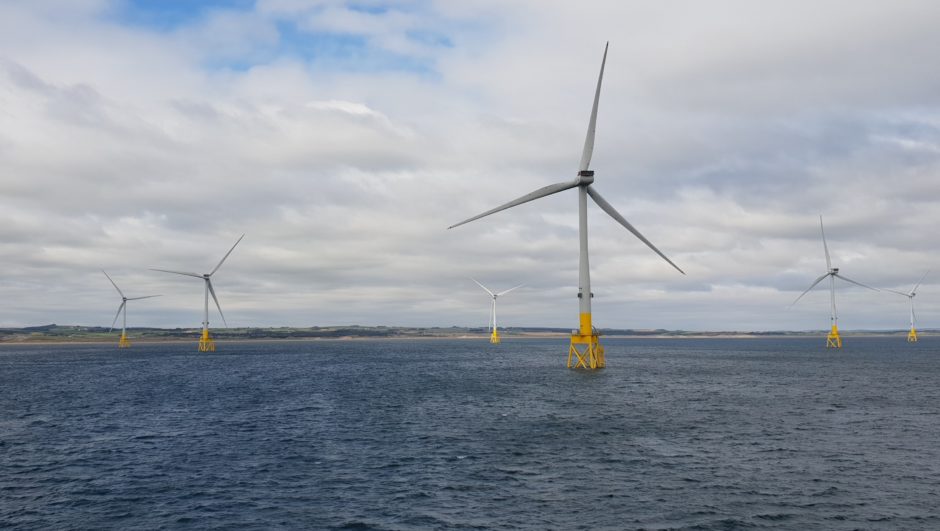 A boat tour out to the city's new wind project will "strengthen multilateral ties" within the sector, according to the the chairwoman of Aberdeen Renewable Energy Group (AREG).
Jean Morrison, chair of AREG, last night described the visit to the 11-turbine Aberdeen Bay wind farm, also known as the European Offshore Wind Deployment Centre (EOWDC), as a "rare opportunity".
Ms Morrision encouraged AREG member firms to sign up for the exclusive ferry tour planned for next Thursday, September 5 2019.
She said attendees will have the opportunity to network with several international delegations of mayors and industry leaders from across the energy sector.
Aberdeen was selected to host the World Energy Cities Partnership (WECP) annual general meeting to coincide with SPE Offshore Europe 2019.
Ms Morrison said: "This is a rare opportunity to meet influential people from around the world who can benefit your business.
"These member cities actively seek and develop opportunities to learn, exchange, and engage in activities which strengthen multilateral ties.
"It is a great opportunity for our members."
Swedish windfarm operator Vattenfall installed eleven turbines at the facility last year, with two 8.8 megawatt (MW) turbines and nine 8.4MW versions of the MHI Vestas V164 model.
The Aberdeen Bay Windfarm will produce the equivalent of more than 70% of Aberdeen's domestic electricity demand and annually displace 134,128 tonnes of carbon dioxide.
Last month, Vattenfall tabled a request to Marine Scotland to extend the life of the wind farm from 22 years to 25 years.
The Lord Provost of Aberdeen, Barney Crockett, also vice-president of WECP, added: "Renewable energy is no longer seen as an alternative or future energy.
"It has become a mainstream energy source and Aberdeen's oil and gas, and energy supply chain are playing a key role in energy transition towards a lower carbon energy system."