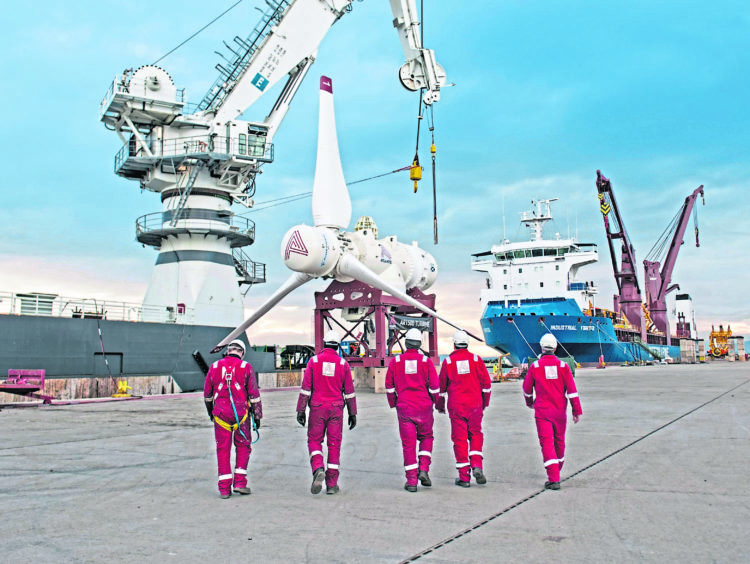 The removal of UK Government subsidy in 2017 left the burgeoning Scottish tidal energy sector in crisis.
Rather than being given the chance to succeed, many in the sector felt the rug had been pulled out from under them at a crucial moment.
Tim Cornelius was mad. He still feels the sting, in actual fact.
But rather than wallow, the enigmatic Australian went out and sold his firm's Pentland Firth-based MeyGen tidal technology even harder, winning private investment through multi-billionaire Sanjeev Gupta's GFG Alliance last year, and in the blink of an eye his firm went from the relatively small Atlantis Resources to a sector leader as Simec Atlantis Energy (SAE).
The swift purchase of Uskmouth power plant in Wales from Simec, the energy arm of GFG, cemented the firm's place as a multi-technology renewable energy player.
The Edinburgh-headquartered company is now looking to purchase hydro firm Green Highland Renewables (GHR), taking it into yet another energy sector.
In May, SAE also announced that construction was set to begin in the Highlands on the world's largest tidal turbine – the AR2000.
Today SAE chief executive Mr Cornelius describes his firm as the "undisputed lead renewables developer in the world".
He said: "We were a niche tidal business prior to the reverse takeover, subsequent to that we're now developing the UK's, and potentially Europe's, largest waste-to-energy plant at Uskmouth – that's opened up a huge part of our business into thermal energy.
"We then went into the GHR acquisition – which we had to change the structure of – but then GHR led us into hydro energy and that is another diversification of our portfolio.
"I would expect in the coming months that we would look to provide an update on the GHR acquisition – that would then give us thermal, hydro and tidal.
"GFG has allowed us to become a broad church with a diversified portfolio under development."
Once complete, the AR2000 device will be deployed on future phases of MeyGen.
Extension plans, called Project Stroma, involve the connection of two more AR2000 turbines to a single power export cable which will be connected via the MeyGen substation to the National Grid.
In February, the firm's primary MeyGen tidal turbine notched up a new world record, exporting more than 12 gigawatts of energy to the Scottish grid.
Mr Cornelius claims the milestone is proof-positive that tidal energy has all the ingredients to be a successful technology.
He says the support of the Scottish Government has helped heal some of the wounds left by the UK Government's lack of confidence in the sector.
Mr Cornelius said: "The case has been made for tidal because in 2019 MeyGen has been performing incredibly well, reliably and are pumping out 21,000 (MWh) of energy to the grid.
"The Scottish Government's support has been excellent, absolutely unwavering and they continue to be very strong supporters.
"In the next couple of months we want to repay that support by developing the biggest ocean power project in the world, with the next phase of MeyGen, and start to export turbines and skills and services out of Scotland, which we're on track to do.
"I think that will be a great payback for the faith that Holyrood has placed in the marine energy industry.
"It's completely the opposite of Westminster, who have provided no support whatsoever. We've had no continuity of policy and no interest in the overall development and success of marine energy over the past two to three years."
Yet, despite SAE's unabated development in tidal energy, the firm is making a concerted push into other renewable energy markets.
Mr Cornelius said SAE and GFG have "got their eye set on" onshore wind and storage.
He said: "We identify ourselves as hopefully the UK's leading developer of renewable energy projects.
"Obviously, tidal is deep in our heart, it's in our DNA, and it's where we started, but it's definitely a diversified portfolio these days, and we continue to diversify.
"That said, we would still absolutely, categorically consider ourselves to be the world leader in tidal development.
"I don't see anyone else in the market making such progress."
Mr Cornelius is excited about the prospects for tidal energy in the north of Scotland and the potential for the AR2000 turbine.
He says SAE is "hugely supportive" of the clutch of other marine developers, including Orbital Marine Power and Nova Innovation.
Mr Cornelius claims he wants these other firms to "keep kicking in the goals" to deliver more megawatt hours to the grid because that "makes it a more interesting option for us to come along and procure equipment and services from them".
He added: "It's important because, just like offshore wind, tidal needs to get bigger quickly.
"As the turbines get larger, the cost comes down. This is not rocket science. We need to build these larger turbines.
"The AR2000 will be the largest turbine that we can currently fit in the Pentland Firth, under those consents.
"It's incredibly important on our journey. We would anticipate going larger still in the deeper waters off France, up to 3MW immediately after that, but the AR2000 is a critical step in the next phase of MeyGen."
The flow of new projects and growth at SAE is somewhat relentless, with the firm announcing it will construct a new tidal-powered data centre in Caithness last month.
Mr Cornelius has big plans for the company and other "big announcements" are in the offing in the next couple of weeks.
Asked about the future, he said: "We just happened to hit two amazingly important things for Scotland at the same time on MeyGen.
"Scotland needs more data security and it needs more international connection. It only has one international fibre optic connection, which is not enough for a country like Scotland to want to stand on its own two feet from a data perspective.
"For MeyGen to be able to be building a data centre and connect it to the world through wind and sea and powering it via 40 turbines, which is going to make it the biggest ocean power project in the world, it becomes an incredibly Scottish-centric story and a huge success story.
"This is our time."
Recommended for you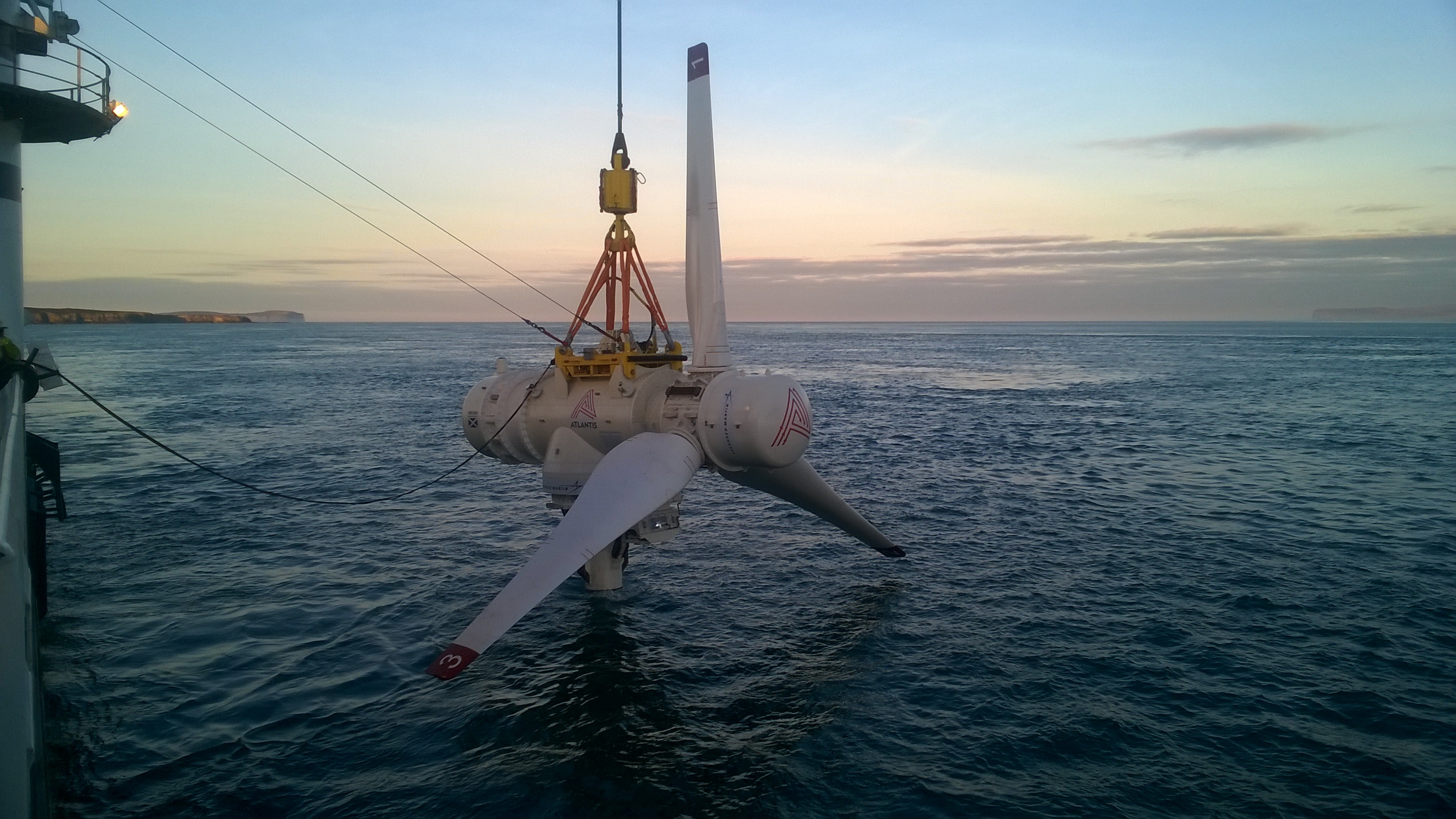 Simec Atlantis receives £4m in 'boost' to MeyGen tidal array