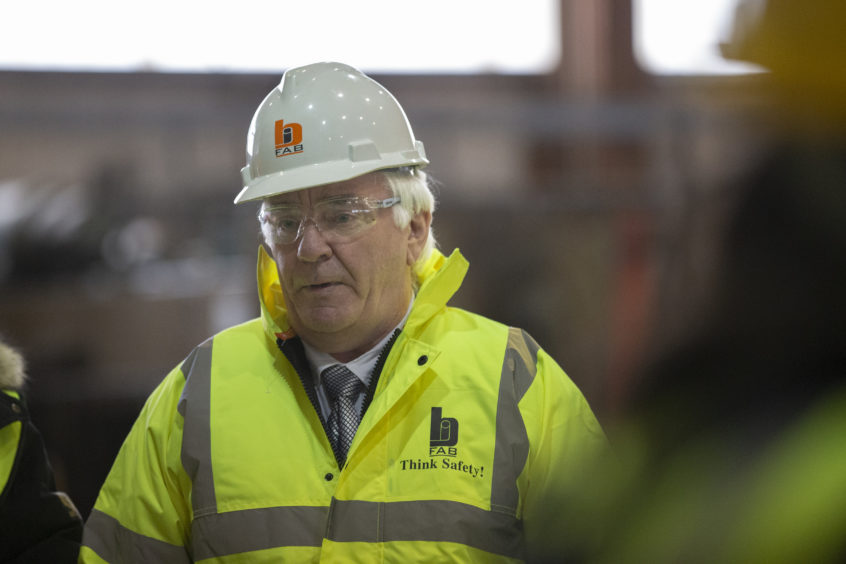 A new threat of redundancy hangs over workers at Burntisland Fabrication's (BiFab) yard in Arnish, according to unions Unite and GMB.
A Unite representative claimed that BiFab staff were told in a meeting earlier this week that the site would be down-manned to zero, with most workers handed a six-week notice  period.
The unions described the situation as a "major blow" to the Isle of Lewis workforce.
But Canadian owner DF Barnes have denied the claims and said it had issued no notices to staff.
A source close to the Newfoundland-based firm made it clear that "no redundancies have been issued" to the BiFab workforce.
It comes just months after a job-saving contract got underway to build 100 monopiles for the Moray East Offshore wind farm, revitalising the Lewis facility back in March.
It is understood any job losses would affect around 80 staff at Arnish, with some staff going as early as two weeks.
In July, it was revealed that BiFab had secured work for eight of the 53 jacket foundations for the Neart Na Gaoithe (NnG) offshore wind farm off the coast of Angus,
It is thought the deal could create up to 200 jobs at the firm's Methil yard in Fife, but no contract has yet been agreed.
Both unions say they understand all workers at the site have been given notice following completion of the monopile work.
In a joint statement, Unite Scottish secretary Pat Rafferty and his GMB counterpart Gary Smith said there is a "major cloud of uncertainty" over the future.
They said: "The news of redundancy notices to the workforce at Arnish is a major blow to the workers who have had to endure so much uncertainty over recent years. It was only in March that we had the energy minister Paul Wheelhouse announcing a contract award with over 80 jobs being created.
Mr Raffery and Mr Smith added:  "Unite and the GMB have been working tirelessly to ensure that the BiFab yards secure work from EDF's £2billion Neart Na Gaoithe (NnG) offshore wind project.
"However, we have been waiting on this announcement for months now and it's time for the silence to end because the workforce needs some stability and certainty."
BiFab was rescued from the brink of administration by the Scottish Government in a £25m agreement before being purchased by Canadian firm DF Barnes last April, although hundreds of jobs were shed.
A spokeswoman for the Scottish Government said it was "in regular contact" with workers and would "provide support for any staff affected".
She added: "Some contracts are nearing completion, but by working with the company to secure new business, we hope to provide the best means of creating jobs in the longer term for both the Fife and Isle of Lewis communities."