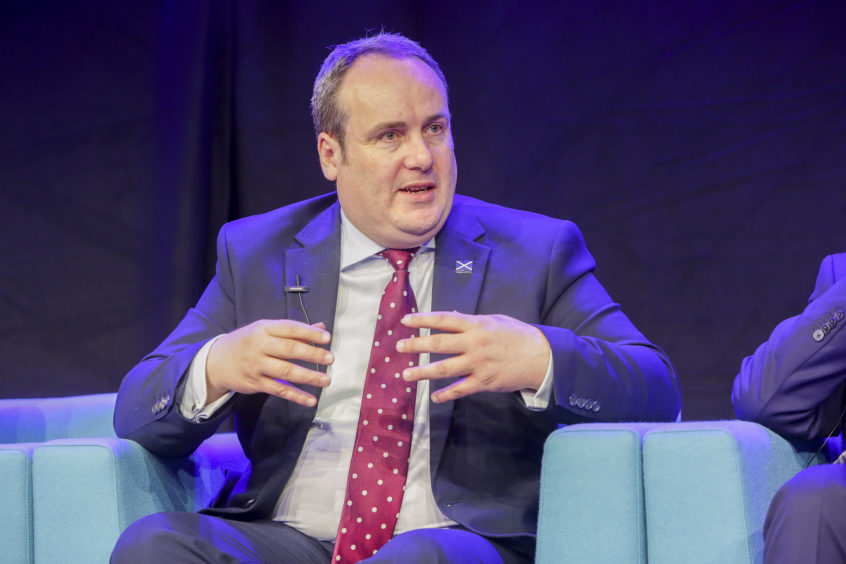 Aberdeen's longstanding oil and gas pedigree could help the city become a natural headquarters for the UK floating wind industry, according to Scotland's Energy Minister.
Paul Wheelhouse, Scottish Government minister for energy, connectivity and the islands, described the sector as a "huge opportunity" for the city as he announced a new more than £1 million Floating Offshore Wind Centre of Excellence.
Mr Wheelhouse, speaking at the Floating Offshore Wind UK conference in Aberdeen yesterday, said the centre would help "drive forward" the next generation of offshore wind.
The plan is backed by £500,000 funding from the Scottish Government alongside match funding from the industry and the Offshore Renewable Energy (Ore) Catapult's Welsh-based Marine Energy Engineering Centre of Excellence (MEECE).
It is understood no location will be central to ORE Catapults plansfor the new UK-wide centre, but Aberdeen could be in with "a real chance" if the Scottish Government decide to create a hub.
A spokeswoman for Ore Catapult said the new Floating Offshore Wind Centre will "have a presence in Aberdeen" but won't be based there.
But she added that the Scottish Government may wish to create a hub based on the city's "existing infrastructure".
North-east oil and gas veteran Sir Ian Wood, whose organisation Opportunity North East (One) will partner on the project, called the floating wind sector an "exciting new opportunity on our doorstep".
He said Aberdeen "could be riding high on floating wind" if the city "gets it right" over the next ten years.
Mr Wheelhouse claimed Aberdeen's investment in a new harbour and its longstanding oil and gas supply chain makes it an attractive option as a floating wind hub.
He added that the city had to exploit its "knowledge base" to drive forward the future role of the north-east of Scotland as the hub for floating wind.
Mr Wheelhouse said: "I think floating wind is a huge opportunity for Aberdeen, whether the city becomes the hub for it or not will depend a lot on the actions of local stakeholders and what the industry wants to do in terms of commercial decisions."
He added that the strength of the north-east headquartered oil and gas majors and tier one suppliers means people should "absolutely be seeing the industry and the city" as a potential floating wind centre.
Mr Wheelhouse revealed he had held "discussions" with Sir Ian Wood about the potential for the north-east to "lead in this area".
But he also called on the north-east oil and gas sector to step forward and make clear its intentions in the offshore wind sector in Scotland.
He said: "What I would say is that I would love to see some of the tier ones based in the north-east and are active in oil and gas sector take a lead role in the offshore floating wind sector so we can start to see those supplier and tier one relationships developing the way they already have in the oil and gas industry for decades.
"It's still early days, but there's still a real opportunity for this technology to be developed here, but it will take oil and gas companies who have the balance sheet strength to start investing in this area."
The advancement of floating wind is seen as vital if the UK is to deliver on its offshore wind growth target of 30 gigawatts by 2030.
As part of the recently announced Offshore Wind Sector Deal, the UK also aims to meet the Committee on Climate Change's recommendation of 75 gigawatts by 2050.
Sir Ian, chairman of One said: "With more offshore installations than any other country, the world's largest floating wind farm and plans for a seven-fold increase in capacity, this is a very exciting time for our offshore wind sector.
"The new Floating Wind Centre of Excellence will play a vital role in helping the UK leverage its leadership position, connecting our strong regional clusters to drive innovation and collaboration."
Chris Hill, Ore Catapult's operational performance director, said the plans had already had "strong interest" from French oil and gas giant Total, Equinor, Mainstream Renewable Power and EDP Renewables.
He added: "Our team of innovation experts and engineers will work across industry and academia to accelerate floating offshore wind technology deployment and de-risk and encourage innovation to ensure we deliver UK economic benefit from the global growth of floating offshore wind – growing local supply chains and delivering UK content and jobs."
Recommended for you

PD&MS wins three-year deal to support Vattenfall offshore wind farms