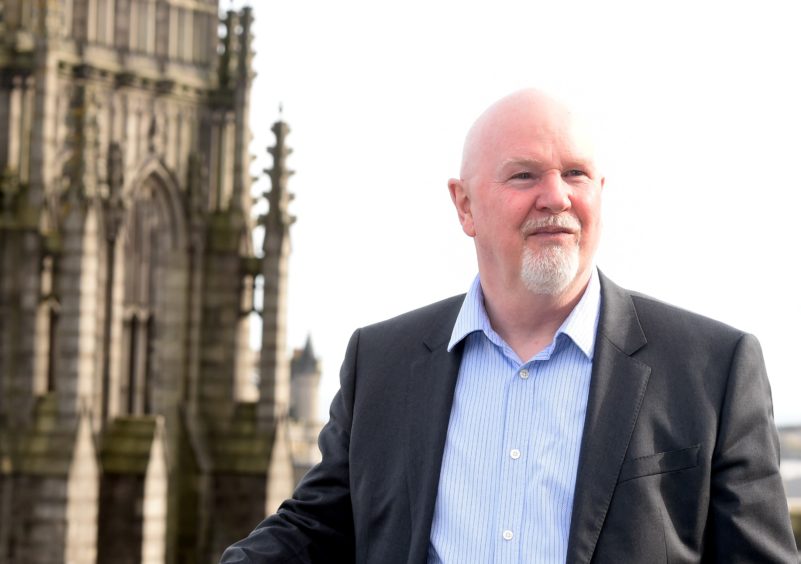 An "interesting marriage" between North Sea oil majors and offshore wind companies is imminent and could electrify the basin, according to the man leading the charge in the north-east.
Paul O'Brien, who runs the DeepWind supply chain cluster, revealed he has signed up nearly 300 energy firms to the representative body, including oil giants Equinor, Total and Shell subsidiary firm Eolfi.
The trade body also boasts members such as Vattenfall, SSE, ScottishPower Renewables and a partnership between EDP Renewables and Engie.
Mr O'Brien, who was hired less than a year ago to connect smaller supply chain firms with the movers and shakers in the offshore wind industry, said he wants the sector to follow the "true and tried" path set down by Aberdeen's oil and gas sector.
He also claims that floating wind development is set to catch fire now that government and industry is "now signing off the same hymn sheet."
"We're currently talking to oil and gas companies right now about the electrification of the North Sea," Mr O'Brien said.
"Individual electrification projects will likely start to be talked about this year about a tie up between floating offshore wind and oil and gas operators to see which ones make commercial sense.
"There are North Sea projects right now that operators want to deliver, which if they do business as usual will actually cost them more than it would if they brought in floating offshore wind."
The DeepWind cluster, only created in May last year, was borne out of a frustration in the offshore wind sector around opportunities and jobs for local firms in the north of Scotland.
Mr O'Brien has signed up 277 member companies in that time, alongside trade organisations such as Subsea UK, Opportunity North East (ONE) and the Aberdeen Renewable Energy Group (AREG).
He said: "Our purpose in this is to get as many Scottish companies as possible engaged in the industry.
"That doesn't me that they are automatically going to win business, they're still up against everyone else, but what it does is make them aware of everything that is happening in the sector, the market intelligence.
"We help them to see where they fit in the supply chain, to get them competitive."
With much of the supply chain dominated by firms from Denmark, Sweden and Norway, Mr O'Brien claims Aberdeen must hark back to its North Sea roots to "create innovation and bringing disruptive technology to the table" in offshore wind.
He said: "We need to do what they did in oil and gas – that build-up of international market expertise.
"Scottish companies are operating everywhere that there is oil and gas, so we want to adopt that true and tired model.
"I think the opportunity is exactly the same – everything that we are already good at needs to be brought to the party."
Mr O'Brien, an energy development manager for Highlands and Islands Enterprise (HIE), believes Aberdeen, in particular, can still be a key player in floating wind thanks to a combination of oil and gas and offshore wind know-how.
He claims the unification of the two technologies "is coming quicker than anybody thought."
Bosses of traditional oil and gas firms such as Shell, Total and Equinor (formerly Statoil) have all been vocal concerning their interest in both fixed bottom and floating wind projects in the Scottish North Sea and the coastlines of the Highlands and Islands.
Last week, it was revealed that Total are in talks to snap up an equity stake in SSE Renewables 112-turbine Seagreen Offshore Wind Farm off the coast of Montrose.
Mr O'Brien added: "With Total talking to SSE about Seagreen, I think blending of skills is what's going to happen.
"The supermajors will tie up with the major utility companies to deliver North Sea offshore wind and floating wind because it benefits both parties."
Recommended for you

Ardersier lands £300m private equity investment for offshore wind transformation