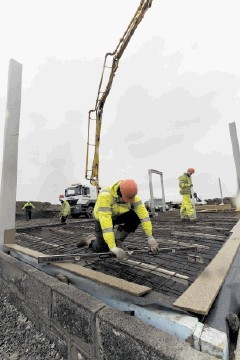 Developers behind an £80million Highland windfarm said yesterday they expected it to be operational next year.
The 21-turbine Baillie Hill project, near Thurso, will have the capacity to power 35,000 homes when completed.
Work has started on the 52.5-megawatt development at Bardnaheigh Farm, Westfield, after a north construction firm won a contract to build an electricity substation at the site. Wick-based GMR Henderson signed a £150,000 deal with Baillie Wind Farm (BWF), run jointly by Norwegian utility Statkraft and landowners Tom and Steve Pottinger.
The contract win comes after GMR Henderson carried out surfacing work on link roads at Spittal Hill, a second Caithness windfarm project being developed by the Pottingers.
GMR Henderson director Gerry Henderson said the company was delighted to be involved in another renewable-energy development in the area.
Statkraft UK director Sergio Castedo said: "Baillie Wind Farm brings a range of local economic and community benefits as well as contributing to national and global environmental aims through generation of renewable power. We are glad to be playing a small part in the wellbeing and sustainability of Caithness as well as much farther afield."
Baillie Hill windfarm received planning approval in 2010 after a public local inquiry into the plans the previous year.
BWF has since said that once operational, the development will provide £100,000 of funding for community projects in west Caithness.
The firm has also committed £25,000 a year from the development to a fund being run by Caithness Chamber of Commerce for renewable-energy ventures in the region.