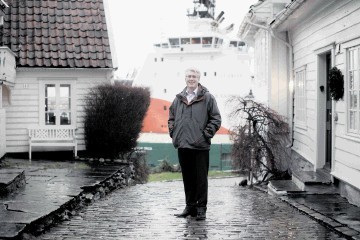 Growing confidence in the Norwegian oil and gas sector is a golden opportunity for north-east firms to grow their business, according to KPMG.
While low unemployment rates offer a chance for firms to help plug a manpower gap, they should also be aware of higher living costs, says the business advice, tax and audit firm.
Martin Munro, partner for KPMG in Stavanger, Norway, said: "The Norwegian economy has coped well with the recent challenging global economic climate and is well positioned to capitalise on new record field discoveries.
"In addition, the replacement of an ageing platform network and the challenges presented by extending the life expectancy of existing fields will also provide expansion opportunities for north east companies.
"Offshore exploration is actively encouraged in part by Norway's beneficial and in some ways unique tax regime, which even includes the incentive of cash payments to some firms involved in offshore activity.
"However, Norway's fiscal landscape is stringently policed so businesses operating here must adhere to the rules at all times and ensure any disputes with the tax authorities are handled carefully and correctly."
Relatively low unemployment levels in Norway could also offer an opportunity, said the firm.
Mr Munro said: "The upsurge in exploration projects coupled with the country's low unemployment means Norwegian companies will be looking to outsource work to suitably experienced companies from elsewhere. Some operators have already advised services firms to prepare to boost their capacities by 50% over the next five years.
"The north-east of Scotland's rich oil and gas history means businesses from the region are highly regarded by their Norwegian counterparts and stand every chance of success when tendering for work as a result."
However, he warned: "The cost of living is higher in Scandinavia than in the UK so employers need to be aware of this and ensure staff being sent there are suitably remunerated.
"However, the higher cost of travel and subsistence for employees living and working in Norway can be reduced by taking advantage of specific tax breaks available to expats and their employers."
Opportunities for doing business in Norway are not limited to the oil and gas sector, said KPMG.
The country continues to be receptive to expansion from Scottish firms involved in the renewable energy sector, research and design, infrastructure and financial services.
Martin Findlay, head of tax at KPMG in Aberdeen, said: "Ambitious firms in Aberdeen and the north east should be looking at the opportunities and benefits available to them by doing business in Norway now.
"While businesses are understandably nervous about venturing into new markets, with the correct support and preparation there is no reason why north east companies should not be capitalising on these opportunities."
Recommended for you

North Sea tax receipts now top £22m per day according to new research