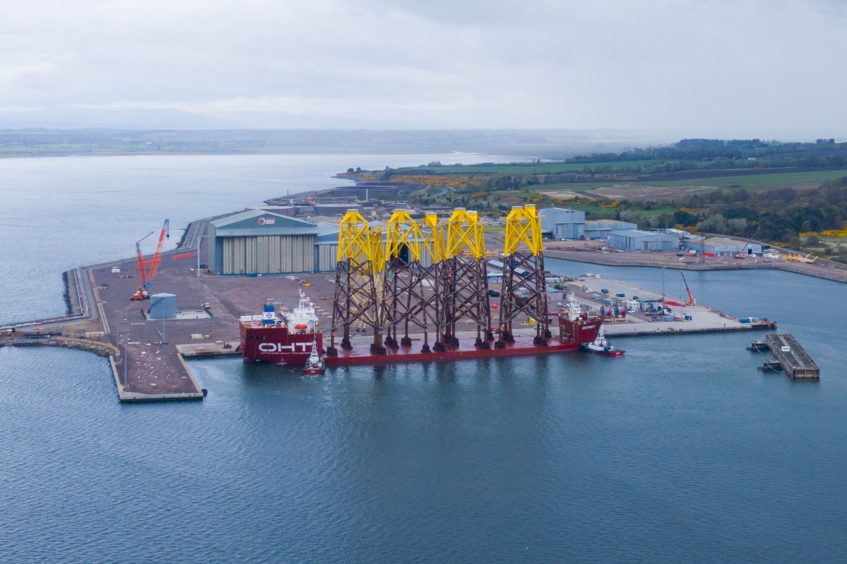 Giant structures that will make up part of Scotland's largest offshore wind farm have arrived in the Moray Firth despite the current 'challenging' global conditions.
The first eight turbine jackets arrived at Global Energy's Port of Nigg on Saturday that will make up part of the 100-turbine Moray East Offshore Wind Farm.
The initial jackets arrived from United Arab Emirates manufacturing firm Lamprell who are contracted to supply 45 structures.
Belgian firm Smulders are due to supply 55 jackets.
The structures were delivered by the OHT Osprey vessel.
Marcel Sunier, project director of Moray East Offshore Wind Farm, said: "I am grateful for all of the work and cooperation which has been undertaken to enable the Moray East project to progress safely in this challenging environment of the global health situation.
"Moray East is strategically important to the security of the UK's energy supply.
"It will help ensure that the UK's economic recovery is not impeded by lack of access to low-cost, low carbon energy."
However, a section of the contract was thrown into jeopardy over the weekend as a crane on board a vessel due to service the wind project collapsed.
Deme Offshore, who are managing the project on behalf of Portuguese developer EDP Renewables, was set to dispatch its Orion crane vessel to Global Energy's Nigg Energy Park in the Cromarty Firth.
A number of workers onboard the vessel suffered minor injuries, Deme confirmed.
Once complete, the Moray East Offshore Wind Farm, will generate enough energy to power neary one million homes in Scotland.
Bart De Poorter, general manager Deme Offshore, added: "The safe arrival of these first eight jackets is a significant milestone and just the beginning of what are exciting times in the progress and timeline for the Moray East Offshore Windfarm."