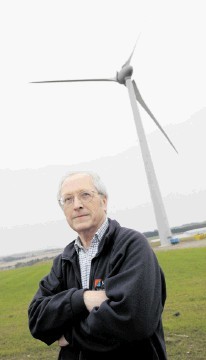 Windfarm campaigners have condemned councillors for backing a series of rural Buchan turbine projects despite warnings they may affect RAF radar equipment.
The Ministry of Defence is calling for a moratorium on green energy schemes in parts of the north-east.
It argues that too many masts can interfere with radars at the RAF Buchan surveillance base at Stirlinghill, south of Peterhead.
The MoD's property arm, the Defence Infrastructure Organisation, is objecting to all new applications for turbines in the surrounding area, arguing that they can create false aircraft readings.
Earlier this month, members of the Buchan area committee approved three small-scale developments near Longside, despite strongly-worded MoD objections.
Councillors went against planners recommendations to reject the scheme and argued that it had not been proved that the device could interfere with the air defence set-up.
On Tuesday, three new applications will go before the committee. In each case, planning officers have called for rejection, based solely on the MoD's objections.
Now, the Aberdeenshire-based Concerned About Wind Turbines campaign group has questioned the councillors' decision.
In its latest newsletter, published online today, spokesman Nick Orpwood said: "Buchan residents may wish to ask their councillors – and indeed Aberdeenshire Council – what qualifies them to over-ride NATS, CAA and Ministry of Defence radar experts.
"I would suggest that by approving wind turbine plans despite the objections of air traffic experts, Buchan councillors are demonstrably not acting in the public interest."
In recent years there have been 144 planning application for 240 turbines in Buchan. A total of 58 bids have been approved, with 56 still pending. Only seven have been refused.
The MoD has also objected to plans for a 12-turbine development at Mormond Hill, near Strichen.
The scheme, which has attracted more than 400 letters and e-mails as part of a public consultation, will come before councillors at a later date.