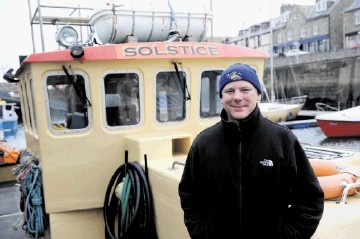 A Moray chartered-vessel company said yesterday the rise of Scotland's renewable-energy industry had trebled its turnover in three years.
Lossiemouth-based Moray First Marine (MFM) was set up in 2000 as Moray Diving Services, offering sports-diving and sea-angling trips.
The company has since sharpened its focus on the energy sector, allowing continued growth as the leisure market suffered in the recession.
Managing director Bill Ruck said the company started to take advantage of the region's growing renewable-energy industry in 2005 after being chartered for work on the Beatrice windfarm project in the Moray Firth.
He added: "The commercial work included taking out survey teams for activities like mapping the seabed or monitoring whales and dolphins in the area."
Mr Ruck said MFM, which employs four people, was now attracting more work in offshore renewables on the back of its experience in the oil and gas sector.
He added: "Our competitors can offer basic boats and let the client get on with it but we can offer a bit more knowledge and experience."
Mr Ruck, who worked as a remotely-operated vehicle (ROV) supervisor for firms including Subsea 7 and Oceaneering before launching the company, said that rising demand meant he recently had to add a second vessel to his fleet.
He added: "Turnover has certainly increased a great deal from the days when we focused primarily on leisure; it was around £35,000 in 2008.
"It was a tough business, with inconsistent weather conditions, and when the recession hit people were spending a lot less on leisure activities.
"Turnover is now over £100,000 and still increasing, and we are expecting a good jump in 2014 as renewables projects start to ramp up.
"That is when the windfarm work really kicks off in the Moray Firth, but already this year we have been surprisingly busy given it is traditionally quieter in the winter months."
Recommended for you

Scottish energy opportunity blowing away into the desert wind