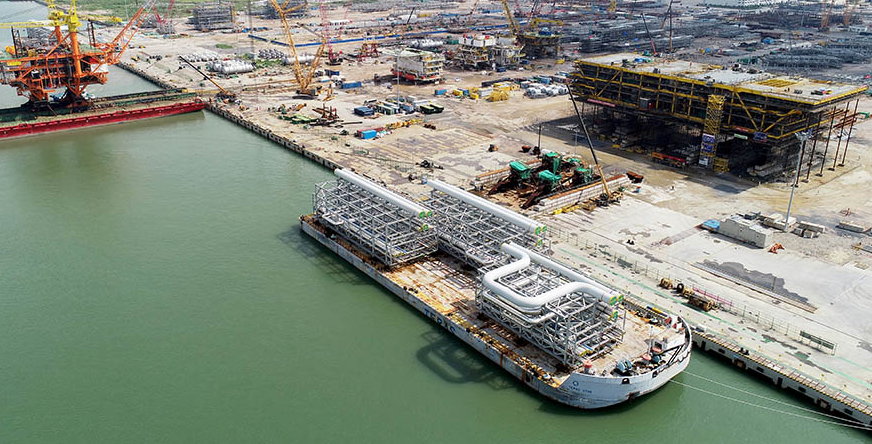 Troubled Scottish manufacturing firm Burntisland Fabrication (BiFab) is facing renewed survival woes as two Chinese firms look set to fulfil the lion's share of a multi-million pound North Sea wind farm contract.
Shandong province-based Penglai Jutal Offshore Engineering (PJOE) Heavy Industries and Cooec-Fluor Heavy Industries-owned Zhuhai Fabrication Yard are understood to have snapped up a contract to supply the majority of jackets for the mammoth Seagreen Offshore Wind Farm.
The news follows the announcement on Friday that UAE-headquartered firm Lamprell will supply 30 jackets for the 120-turbine development, planned off the coast of Angus.
French oil giant Total purchased a 51% controlling interest in the £3 billion Seagreen Offshore Wind Farm last week.
A spokeswoman for SSE Renewables, who retain 49%, claimed contracts for the remaining jackets "are still to be negotiated".
However, new information on Chinese contract wins from a source close to negotiations leaves BiFab's hopes of securing a five jacket deal hanging in the balance.
The fabrication firm, which once employed 1,400 workers, was rescued from the brink of administration by a £30 million Scottish Government loan two years ago.
The firm now has only a skeleton staff at its yards in Methil, Burntisland and the Isle of Lewis.
BiFab's Canadian owners DF Barnes refused to comment on the news.
But a spokesman for trade union GMB Scotland said: "If this speculation is true, it's more dismal news for BiFab".
He added: "It looks like 'business as usual' for our offshore wind sector, with the lion's share of another billion pound project being built anywhere but Scotland..
"We desperately need some good news for BiFab but yet again it looks like Scotland's manufacturing future is being hawked to the rest of the world, and with it the hopes of our communities who depend on the success of these yards."
Zhuhai Fabrication Yard one of the largest in the world, is located in a free trade zone and boasts a "low-cost, skilled" workforce.
It has supplied topside modules for a number of Chinese oil and gas projects.
The PJOE yard, located in Penglai, China, specialises in the fabrication of heavy steel structures for the mining and oil and gas industry.
A spokeswoman for Seaway 7, the firm appointed by SSE to manage contract tenders for the Seagreen project, said: "We can confirm that Lamprell will manufacture 30 jacket foundations for the Seagreen 1 offshore wind farm project."
"It is our company policy to not comment or respond to enquiries on commercially sensitive business transactions until all matters are finalised."